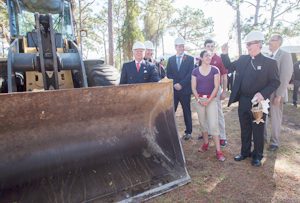 Religious, academic and business leaders gathered under a tent in Melbourne on December 7 for a groundbreaking ceremony for Mary, Star of the Sea Catholic Student Residence at Florida Institute of Technology (FIT). The lifting and scattering of dirt was symbolic of the coming together and cohesion of relationship which only great effort and unceasing prayer could achieve — a Catholic home on a secular university campus.
"Just so you know," said Salvatorian Father Douglas Bailey, Chaplain of Catholic Campus Ministry at the University for the past 29 years, "this will be where the chapel will be. The dorm will be behind us. I never once doubted the idea. We believe God is the most important Truth there is. God said 'Jump!' and white-knuckled we jumped. God was there."
The new housing located on Babcock Street will be home to 140 students beginning with the Fall 2013 semester, the chapel is in the plans to follow.
Although Father Bailey was the driving force, the collaboration required Diocese of Orlando Bishop John Noonan, FIT President Anthony J. Catanese and Matthew Zerussen, President of the Newman Student Housing Fund, which aims to build facilities where students can live their faith on secular college campuses all across the U.S.
"This Advent Season we remember Christ's coming," explained Bishop Noonan. "We must be renewed in our faith and we must renew God in the lives of our young people."
The new housing will allow those with similar values to form a community where students can strengthen and support one another.
"This residence hall is where you develop community. It is faith-based and will help our students develop their sense of values." said President Catanese.
The Zerussen family first became aware of Catholic housing on a secular university campus at the University of Illinois, Champaign campus where Bill Zerussen serves on the Board of Trustees. Now through Newman Student Housing Fund, the Zerussens are making it financially possible for this idea to become a reality on other secular campuses.
"Fifty percent of students on college campuses lose their faith by the time they graduate," Zerussen said. "This is unacceptable. St. John Henry Neumann believed that those who choose a secular university should have a place to call home. It starts with prayer – the power of prayer that we'll be able to engage. This will transform lives and souls for years to come. This place will be a shining beacon, radiating Christ and impact all those who enter."
Caitlin Wood, an 18 year old freshman chemical engineering student from Tewksbury, Mass. attended and said, "I would like to live in the dorm – in a good community next to the chapel. My parents are in full-support and proud of me."
"Our Catholic faith should be very important for our students. This residence hall will give them the ability to grow spiritually and academically," concluded Bishop Noonan. "We educate the whole person – mind, body and spirit. It's the foundation of our faith. It's so important. I'm looking forward to the completion of this project."