CLERMONT | Most of us look forward to the holiday season with joy-filled anticipation of gatherings with family and friends. Yet for the many who have lost a loved one, this time of year can be excruciatingly difficult. For those whose grief makes the season more than they can handle, there is hope.
Diane Maglione coordinates the bereavement and consolation ministry at St. Faustina Parish in Clermont. After several years of training as a lay minister in bereavement, her message is clear—you are not alone. On Nov. 20, she and her team offered a "Coping with Grief during the Holiday Season" workshop, providing understanding of grief and tools that can ease the journey.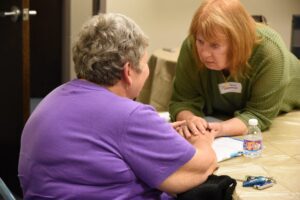 "Grief is different for each of us. We all grieve in a different way. Some grieve longer than others," explained Maglione. Depending on one's relationship with the person or thing that was lost (pet, job, etc.), grief can take different forms and durations. "It is personal and it's individual and every person experiences its nuances differently." Maglione said personality and natural coping mechanisms also affect grief. "There are no rules, no timetables… There is no typical loss and there is no typical grief."
Yet there are tools and information that help navigate the process. Although the well-known Kübler-Ross model of grief helps guide us with a name for some of the stages of grief: Shock and denial, pain and guilt, anger and bargaining, depression, the upward turn, reconstruction, acceptance and hope—recently psychologists have made it clear that these are not stages one travels in order. Maglione adds that the list is not inclusive. One may also panic and stress at being faced with taking care of things they never had to before such as cooking or paying bills. Some may experience several stages at once, or even relapse into a stage if triggered by a memory, a song or event. As an example, Maglione acknowledged that, although her mother died 34 years ago, the anniversary is still a difficult day for her and that is all right.
Author of The Widower's Network and founder of WidowersSupportNetwork.com, Herb Knoll, recently spoke at St. James Cathedral Parish. He lost his wife after 16 years of marriage and notes, "Grief doesn't end. It evolves… So don't let anyone tell you, 'It's time to get back in the game,' or 'Get over it.'"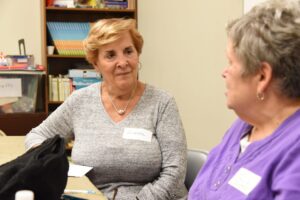 Both Maglione and Knoll encourage those grieving to be kind to themselves and to embrace what they are experiencing. Lack of acknowledgement only creates stress that can lead to illness. Knoll points out that men grieve differently than women, often making it more difficult.
"Most men don't tend to have lifelong friends," he said, leaving no one to talk to about their loss. Often they attend grief counseling or a support group, but eventually "bail because they don't like crying in front of women." He recalled a man he helped who felt he did not have permission to grieve. The man shared, "It's not manly to have these discussions." Old schools of thought can hinder the process. He urges men to communicate their needs and challenges and stay close to the ones they love, seeking their support. For men and women, Maglione recommends keeping a diary to process experiences— dating the page, expressing to your loved one what you experienced that day.
"You don't have grief if you don't have love first," noted Knoll. To ignore that you experienced one of life's greatest joys by pretending all is well does not help the griever, nor does it honor the loved one. In The Widower's Christmas List, Knoll writes, the Gospel of John (John 11:1–44), teaches us how Jesus grieved. "We learned of the story of Jesus' dearest friend, Lazarus of Bethany…  Jesus loved Lazarus so much, he wept after he learned of his passing. So painful was Jesus' loss, he decided to perform one of his most prominent of miracles in which he restored Lazarus to life four days after his death… Jesus' reaction to the loss of his beloved friend reinforces the view that grieving is a natural extension of one's love for another." Knoll and Maglione agree – to stay close to one's faith is an essential part of healing. Although every parish does not have a bereavement group, many do. Seek one near you.
Knoll encourages family and friends to remember men also need to express their feelings of sorrow, talk about their lost loved ones, and have a support group that is unafraid to check up on them and engage them, especially during the holidays.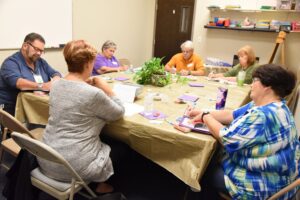 Among the tools Maglione offered to cope with grief, she used the acronym BREADS. Breathe (imagine the breath of God calming you); relax (create quiet time for daily prayer and reflection); Express your feelings to God and a trusted friend; Attitude (believe that God provides all we need for the journey); Devotion (be loving to yourself and others); Spiritual (let go and let God guide you through).
Maglione said having a plan is a must, especially during the holidays. "Organize your family and determine who will be coming, or where you are going. Liberate yourself from whatever you need to be free of at that time (going somewhere or a negative person). Identify traditions to keep them or let them go. Do something for someone else. Serving is healing. Allow yourself to be sad, happy, quiet, grateful or joyful. Your gift giving should be as simple as you need it to be. Share in the spirit of the season." She assured, "Your fear of the holidays may be worse than you actually imagined. Allow surprises to come to you and enjoy golden moments. Don't be afraid to talk about your loved one. Remember them with family and friends."
By Glenda Meekins of the Florida Catholic  November 26, 2019