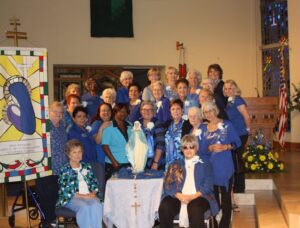 MELBOURNE | The celebrations were as similar as they were different. The National Council of Catholic Women (NCCW) formed by the United States Bishops in 1920 celebrated their anniversary on Sunday, Jan. 15 and the women of the Diocese of Orlando could be found in their parishes, all participating in the celebration of Mass but with a variety of unique fellowship opportunities afterwards.
"The ladies and Jr. CCW members of St. Ann's in Debary celebrated CCW Sunday by welcoming back our pastor, Father Peter Henry from medical leave," said Kathy Dempsey, president. "We are so grateful that he is back shepherding us again – what joy his Irish smile, voice and humor bring to all of us!"
Saint Ann's CCW is a model for the diocese and nationally – having started a junior group of young ladies to transition at age 18 to the women's group.
"I want to thank Bishop John Noonan for recognizing the Council of Catholic Women of our diocese for their contributions in leadership, spirituality and service," said Mary Matheus, Orlando Diocesan CCW president. "I also want to thank all our Catholic women for gathering together to worship as one family. We as a council have been privileged to serve our diocese for the past 49 years and we look forward to celebrating our 100th anniversary nationally in 2020."
Matheus participated in the Sunday liturgy at Holy Redeemer Parish in Kissimmee. Along with Mary Anne O'Shea, Central Deanery and Affiliation president she presented the gifts to Father Tim Labo, Pastor and Spiritual Advisor who recognized the works of service that CCW provides to the parish and community. Mass was followed by lunch with prayer and fellowship.
Sandy Stanley, president of Blessed Trinity CCW in Ocala reported that the women chose to celebrate by serving the needs of the poor in the community.
"We held a diaper/wipe drive for the weekend," Stanley said. "We were very successful with an estimated $2,850.00 in product and $700.00 in donations to purchase more to replenish the supply at Brother's Keeper (the social service outreach ministry of the parish)."
Ascension CCW in Melbourne invited members of the many countries represented in the parish to provide statues and pictures of the Blessed Mother and a brief explanation of how she is venerated in their country for the reception following the 9:30 a.m. Mass.
"It was overwhelming – the diversity and beauty of the statues, pictures and the presenters – some in native dress," said Georgette Hoppenbrouwer, president. "Represented were Our Lady of Argentina, China, Cuba, Ireland, Japan, Mexico, Poland, Puerto Rico, Spain, and Vietnam. A few women led us in the 'Hail Mary' in their own language. It was so beautiful that we're inviting them to do the same at our May Crowning so that our entire parish has the opportunity to appreciate and enjoy."
Joan Woodson, president of St. Paul CCW in Leesburg shared, "We were easy to identify in the first five pews with our blue scarves at the 12:30 p.m. Mass then we had lunch together along with some husbands and our Spiritual Advisor, Father Mark Wajda."
And at Sts. Peter and Paul Parish, Winter Park, Nadine Hardin reported, "We gathered for a social chit-chat at the Parish Hall following the 10 am Mass and the Men's Club served us breakfast.  We felt very honored, as they reserved tables for us!"