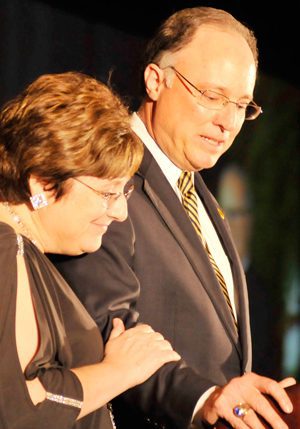 'Each life is a precious gift from God' – Kevin and Linda Shaughnessy, longtime advocates of Bishop Grady Villas were bestowed the organization's Lifetime Legacy Award at its Ninth Annual Harvest Ball, Oct. 27 at the Rosen Plaza Hotel in Orlando. More than 500 family, friends and residents of Bishop Grady were present at the gala event. Located in St. Cloud, Bishop Grady Villas is an assisted living facility, supported by the Diocese of Orlando.
"Linda and I are humbled and honored by the recognition we have received," Mr. Shaughnessy said.
Mr. Shaughnessy has been involved in Bishop Grady Villas since its inception, offering legal advice to Sister Elizabeth Stoup's dream of creating a place where individuals with disabilities could experience the opportunity to develop and realize their God-given talents. The facility opened in 2004.
"We talk a lot as a Church about the sanctity of life and Bishop Grady speaks volumes about the sanctity of life and about how each life is a precious gift from God," Mr. Shaughnessy said.
Throughout the years, the Shaughnessys have supported the organization in a myriad of ways, including serving on the Board of Directors, funding Bishop Grady Villas' Endowment Fund, sponsoring the Annual Harvest Ball, volunteering at Bishop Grady Villas, and even helping install accessible railings in the resident rooms. Kevin has provided pro bono legal assistance, while Mrs. Shaughnessy has co-chaired the Harvest Ball for three years. The Shaughnessys said that they treasure working with and supporting Bishop Grady residents.
"I believe we are called to be Christ's hands and feet on earth and to serve others," Mrs. Shaughnessy said. "As his apostles, we need to choose a group of people in our little corners of the world and try to make a difference in their lives. Kevin and I are strong supporters of the right to life, and Bishop Grady Villas has touched our hearts because of their work with those with developmental disabilities. We wanted to help fulfill the dreams of Bishop Grady and Sister Elizabeth in giving a group of God's children a place to call home, develop as a community and to glorify God to the best of their abilities."
"One of the special things about of being part of Bishop Grady Villas and working the Harvest Ball is that our residents are always part of the committee," Mrs. Shaughnessy continued. "They always come to meetings and are ready with a prayer and reflections as why it is so special to live in Bishop Grady Villas. Kevin and I are inspired by the residents of Bishop Grady Villas and their families for their incredible faith, amazing courage, and mostly for the joy in their hearts. Our residents are so joyful. You truly see the face of God in them."