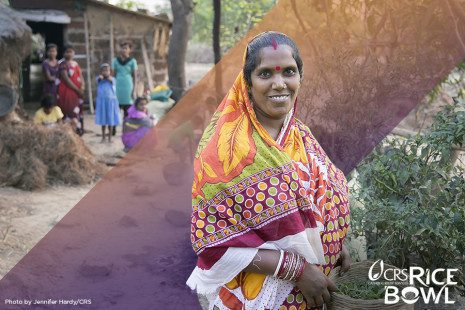 The season of Lent is marked by many traditions among Catholics in the United States. Symbolized by its ubiquitous card board box, CRS Rice Bowl has been a tradition for generations of Catholics. Beginning in 1975 as a response to a growing famine in Africa, CRS Rice Bowl today shines a light on the Catholic community's commitment to poor and vulnerable families – our brothers and sisters. Their lives are improving in meaningful, measurable ways through the humanitarian programs and services provided by Catholic Relief Services (CRS) and the Catholic Church around the world.
This year, CRS Rice Bowl provides a path for Catholics in the United States to build, what Pope Francis calls "a culture of encounter". With CRS Rice Bowl, each week of Lent is a new opportunity to meet a family from a different country overseas, hear their personal stories, learn about their culture and experience a meatless meal they serve at home.  Each Lenten story illustrates a principal of Catholic social teaching – an essential element of Catholic faith that says every human being is created in the image of God and redeemed by Jesus Christ, and therefore is invaluable and worthy of respect as a member of the human family.
CRS Rice Bowl is global in its reach, bringing tangible goods and services to people in need around the world.  Twenty-five percent of all contributions stay in local dioceses to support hunger and poverty prevention programs such as community gardens, food pantries, soup kitchens, support groups, and job centers.  The remaining 75% goes to support CRS' humanitarian and development programs overseas, providing life-saving assistance and hope to impoverished and vulnerable communities.
CRS Rice Bowl materials are available in print, on the web, and through the mobile app, and in both English and Spanish. Call 800-222-0025 or visit crsricebowl.org to place an order. Follow CRS Rice Bowl on Twitter @CRSRiceBowl, like CRS Rice Bowl on Facebook and download the app from the iTunes or Google Play stores.To learn more about CRS Rice Bowl, visit crsricebowl.org.