Burkina Faso, Dominican Republic and Pakistan Among Featured Countries in 2013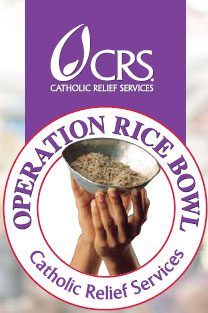 Catholics around the country are handing in their symbolic rice bowls filled with sacrificial contributions of coins and dollars to their parishes and schools. These contributions help extend the reach of the Catholic Church to serve the poor and vulnerable around the world.
Close to 13,000 Catholic communities participated in this year's Operation Rice Bowl, CRS' annual Lenten program. Some schools and churches held simple meal dinners using recipes from one of the featured countries; others invited speakers to share their knowledge and experience of seeing CRS' work in agriculture, health and well being in poor communities overseas. Many families used the weekly Lenten calendar and stories provided by the program as a way to focus their Lenten reflections and make a stronger connection to the lives of others.
"Operation Rice Bowl is such a beautiful expression of Lent, used especially as a way for parents to teach children not just about sacrifice and how central that is to our faith, but also about the poor people of the world," said Carolyn Woo, CRS' president. "It can lead them to realize that there is more to their family than parents and siblings—that we are all God's children, all part of one human family. On behalf of those whose lives will be strengthened by these contributions, Catholic Relief Services says thank you."
Started in 1975, CRS' Operation Rice Bowl has become a tradition for many Catholics in the United States. "This cardboard box can form the foundation of a lifetime of not just giving and sharing and sacrificing, but of real solidarity with poor men, women and children, wherever they might be in the world," said Woo.
In 2013, CRS' Operation Rice Bowl will feature people who have benefited from CRS programs in Lesotho, East Timor, Pakistan, Dominican Republic and Burkina Faso. A diocese in the United States will also be selected to represent the 25% of contributions that remain in each Catholic diocese to fight poverty and hunger locally.
Catholic Relief Services is the official international humanitarian agency of the Catholic community in the United States. The agency provides assistance to people in need in nearly 100 countries, without regard to race, religion or nationality. For more information, please visit www.crs.org or www.crsespanol.org.