ORLANDO │ Faithful Catholics across the globe are about to embark on an exciting and imperative mission to reignite the fire of spirit and joy in our young adults. Carlos Bernard, director of youth ministry for the Diocese of Orlando, will lead a delegation to World Youth Day 2019 in Panama January 22. "Many times, Confirmation is considered graduation (for young adults)," he said. "There is no connection between Confirmation and Marriage or vocational life. Hopefully, those who are called to this pilgrimage will make that connection, helping them to better understand the Church and their role in this journey."
19-year-old Kaitlin Menner is one of 27 students on the diocesan delegation. The parishioner from Blessed Sacrament in Clermont looks forward to the trip. "It's important for us to see how many other young Catholics there are in the world and that we can all gather in one place," she said. Other small groups from across Central Florida are also headed to Panama, including teams from Holy Cross and St. John Vianney Parishes in Orlando, St. Thomas Parish in St. Cloud, St. Lawrence Parish in Bushnell, Annunciation Parish in Altamonte Springs and many more.
They will join some 800,000 young people from all corners of the world on the 15th anniversary of this event. World Youth Day (WYD) began in 1986 after massive crowds of young adults at a Palm Sunday Mass in Vatican City inspired St. Pope John Paul II. He called them to be "the light of the world." WYD actually lasts five days and is intended for people ages 15-35, but everyone is welcome. It is held at the international level every two to three years at different locations.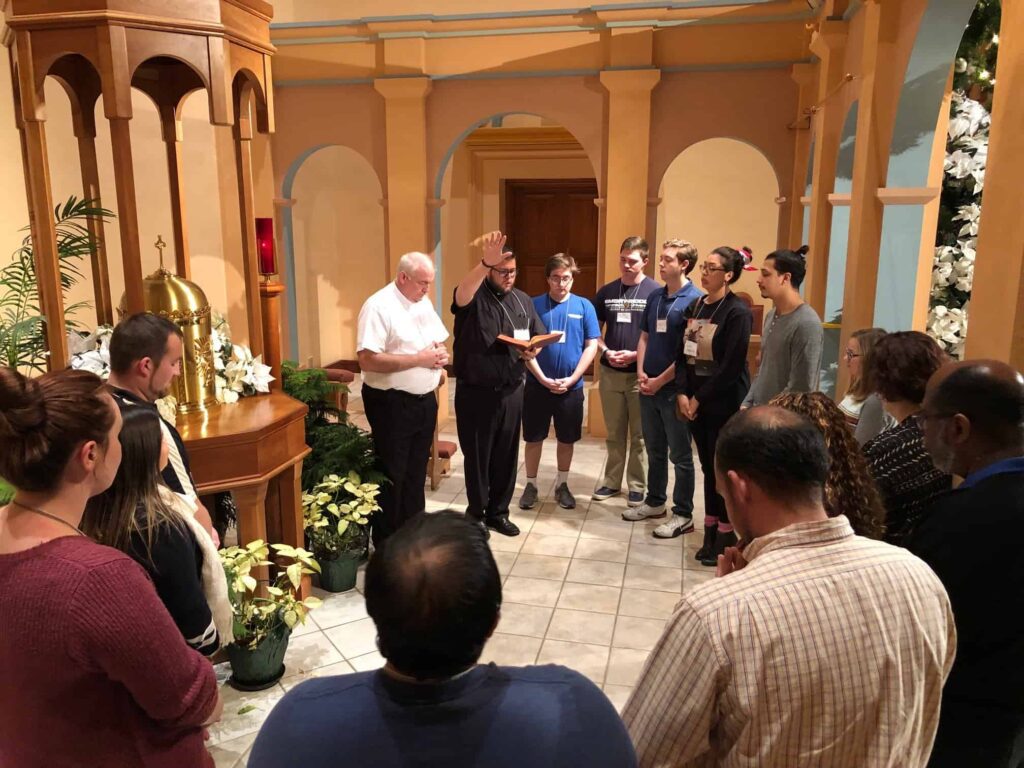 This year's theme is based on Luke 1:38, "I am the servant of the Lord. May it be done to me according to your word." Mary's fiat resonates with Menner. "Service has definitely been a big part of my faith journey and something that's very calming to me, so I think that's a great theme and very fitting for my first World Youth Day," she explained. Bernard agrees noting some young people are "lost in their faith or have fallen away. This is a way for them to become closer to God."
This will be the third WYD for newly ordained Father Edwin Cardona, parochial vicar of the Basilica of St. Paul in Daytona Beach. He first attended in 2011 as a seminarian, then in 2016 as a transitional deacon. While his experiences had a profound effect on his life, spiritually and culturally, he looks forward to Panama for different reasons. As the child of Salvadorans, Father Cardona always felt a connection to Saint Oscar Romero. Romero is one of seven saints chosen as intercessors for the pilgrims.
"(Romero) took care of his people and defended them against injustices. He always gave them that shepherd's love," said Father Cardona. "As a young priest having that cultural background, I would like to emulate his (Romero's) pastoral care." He prays everyone will experience holy moments with God on the pilgrimage. "For myself, World Youth Day was my first encounter meeting Catholics from all over the world and being able to pray in different languages, being able to see the Pope as a global leader for the Church and the world."
Pope Francis will celebrate Mass. There will also be Eucharistic Adoration and opportunities to walk the Stations of the Cross. Intertwined with the renewal in faith with be a little sightseeing as well. Many attendees will go on retreat in the rainforest and visit the Panama Canal. Something Menner is grateful for. "I'm hoping to have opportunity to grow in faith and connect better with God."
By Glenda Meekins of the Florida Catholic – January 14, 2019