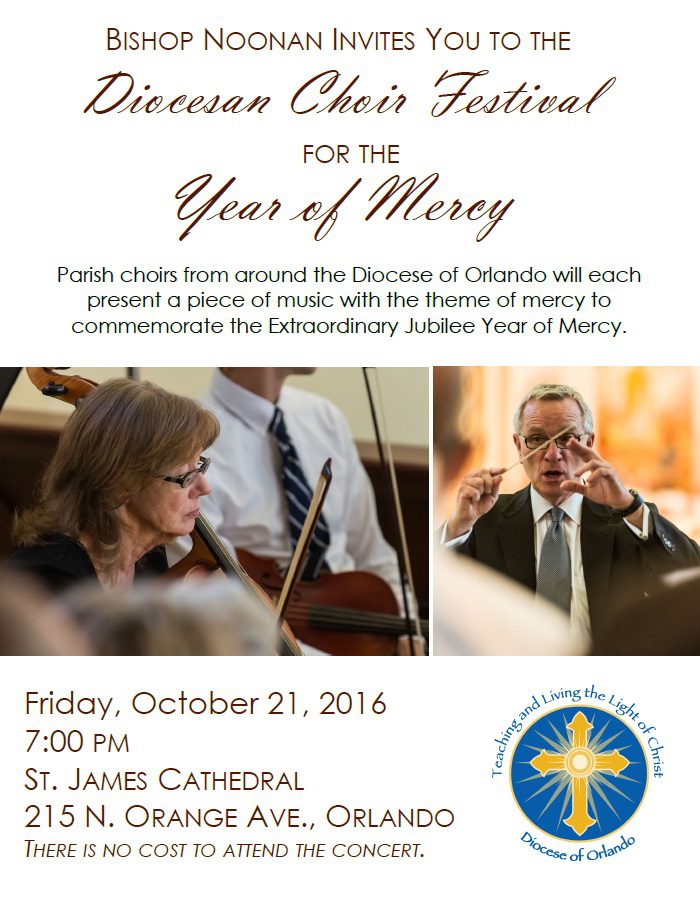 Bishop John Noonan invites you to hear parish choirs from around the Diocese of Orlando to commemorate the Extraordinary Jubilee Year of Mercy on Friday, Oct. 21 at 7 p.m.
Six choirs will be represented from each of the deaneries, and each choir will have an opportunity to present a piece of music with the theme of mercy. The concert is geared toward all ages, and music will range from prayerful and spiritual to upbeat.
"It's a way for us to join together as a community to continue to pray for mercy, for those affected by the storm and those persecuted for their faith," said Mark Sibons, director of music for Most Precious Blood Catholic Church.
The concert will take place at St. James Cathedral, 215 N. Orange Ave.  Limited free parking is available on the corner of North Orange Avenue and West Robinson Street.
Registration is not required, and the event is FREE.
Please contact the Office of Liturgy with any questions at 407-246-4860. Click here to download the event flyer.