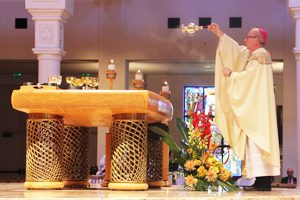 It was day to remember God's many blessings as nearly 1,300 gathered to participate in the celebration of the Diocese of Orlando's annual Mass of Thanksgiving at the Basilica of the National Shrine of Mary, Queen of the Universe in Orlando on Nov. 4. Bishop John Noonan thanked the congregation, comprised of people who contributed to the Alive in Christ capital campaign or made a gift to Our Catholic Appeal during the past year, for their generosity and commitment to the diocesan efforts.
"Catholic Charities and our parishes are actively involved in the needs of all people, not just Catholics, but all people. What truly makes us Catholic is our generosity and service and our faith and for that, I sincerely thank you," Bishop Noonan said.
As part of the celebration, four parishioners shared how their lives have been touched by each effort. Fifth year seminarian Chris Dorsey thanked Our Catholic Appeal donors for giving him the opportunity to discern priesthood and his relationship with Christ and to fully understand God's calling for him. He spoke on his studies and the many opportunities afforded to him as he prepares to minister to God's people. Co-sponsored by the Archdiocese of Military Services, Dorsey is also preparing to become a soldier and serve the men and women of the U.S. Armed Force as a military chaplain.
"Being able to be among the people is what I feel God is truly calling me to do," Dorsey said. "None of this could happen if I did not have the support and prayers of all you. You have given me that opportunity to take that time to study and work on my relationship with the Lord. And for that, I can't express my complete gratitude. I want to give my heartfelt thank you to all of you."
Vocations run deep in Margarita Feuerbacher's family. Her uncle is a priest and her aunt is a religious sister. "They were a shining light and a personal example to our family of what it means to be of service to the church," Feuerbacher said.
Their example, in part, is the reason the Our Lady of the Lakes in Deltona parishioner is devoted to giving to Our Catholic Appeal. She also works with Vocations Services, a volunteer group of lay parishioners who seek to encourage and promote vocations to parishes.
"I have seen much good come out of this important work of the Church," Feuerbacher said. "Under the guidance of the Holy Spirit, we have seen the vocation numbers in our diocese increase, and the future of the Church is bright. For without priestly and religious vocations, we would have no one to celebrate Mass and administer the Eucharist, the source and summit of our faith. We would have no one to intercede for us, give witness and guidance and serve the faithful. All of this is made possible through your generosity."
The witness talks culminated with Drs. Jose and Pearl Ramirez, parishioners of Holy Redeemer Parish in Kissimmeee, sharing as to why they give to Alive in Christ, and the thoughts of Dr. Peter Morrow of the Catholic Charities Medical Clinic Volunteers and parishioner of St. Thomas Aquinas in St. Cloud.
Thanks to the generosity of Catholics throughout the Diocese of Orlando, many dreams have become a reality.
To date, the faithful of our diocese have raised more than $13.3 million for Our Catholic Appeal in 2012.
Approximately 18% of gifts to Our Catholic Appeal are used to meet the spiritual and educational needs of our clergy, religious, and seminarians.
Approximately 15% of gifts to Our Catholic Appeal provide support for Catholic schools and religious education.
In the past year alone, gifts to Our Catholic Appeal enabled Catholic Charities to distribute more than 5 million pounds of food to those in need.
More than 24,000 young people received a solid formation in the faith.
And more than 13,000 people found spiritual renewal at San Pedro Center
More than $149 million has been raised for the Alive in Christ campaign to date
Thanks to the generosity of the faithful, 56 (or more than 60%) of our parishes are already moving forward with critical projects, including new facilities, improved technology and expanded social service ministries through Alive in Christ.