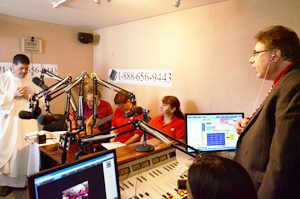 Support Local Catholic Media to Share the Good News of Jesus Christ
WHO: Buena Nueva FM, volunteers, ministries, parishes, and supporters throughout the Diocese of Orlando
WHEN: April 15-19, 2013, 8am-8pm
WHAT: Buena Nueva FM invites you to participate in the "Easter Radio Marathon" from Monday, April 15 to Friday, April 19 from 8:00am – 8:00pm. This Radio Marathon is very important for the Catholic radio ministry of the Diocese of Orlando.
WHY: Buena Nueva broadcasts the daily Mass along with interesting and faith-filled local, national and international programs. The radio ministry also carries local diocesan English programming, including the Mass on Saturdays at 5:00 p.m.
Schedule of English Language Programming:
Being Christ to Others with Deacon Patrick McAvoy
Mondays 10:00am
Live out Loud with Deborah Shearer and Alejandro Luciano
Mondays 10:30am
Pastoral Ministries Updates with Heidi Peckham and Christine Shields
Fridays 10:00am
Poetry and Prayer with Dan Hardester
Fridays 10:30am
Firestarters with Fr. Ben Berinti
Fridays 11:00am
Call 1-888-656-9443 to donate or login to www.buenanueva.fm to make an online donation.
Listen to Buena Nueva on the Internet: www.buenanueva.fm and on your mobile device. During the radiothon, video streaming will also be available. So listen and watch!