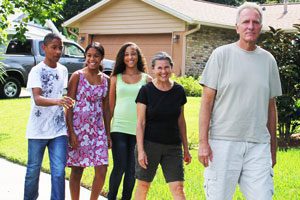 Mike and Rocky Brown, parishioners at Holy Family Catholic Church in Orlando, were one week into a major kitchen renovation when they learned that they would be hosting two teenage girls from the Dominican Republic who would be visiting the Orlando area to learn English. The project did not deter them. Empty nesters for 13 years, the couple, who had visited the Dominican Republic in 2002 on a mission trip, embraced the opportunity to share their home with Luisa and Yoelina.
Rocky said while managing the construction and the guests was a bit of a challenge at first, the language barrier proved to be more of a challenge.
"Our Spanish is limited and their English was more limited than we thought," she said. "We just muddled through and did our best communicating."
The teens arrived in the United States on June 21 for six weeks of intensive English classes at Valencia Community College in Orlando. These classes will help the students with future employment opportunities. They stayed with host families during the week and spent their weekends with another family as a means of giving them added exposure to family life in the United States. During the weekends, they took in the sights of Florida, visting some of the attractions as well as the beaches and state parks.
While they said they have enjoyed the classes and have noticed an improvement in their English skills, the teens admitted that the weekend excursions have been the highlight of their trip.
"Two weekends ago, I went to Aquatica," Luisa said. "It was very enjoyable. I liked. I went to Cocoa Beach and learned to surf."
"I held an alligator," said Yoelina. "I went fishing and caught two fish. I went to Aquatica. I liked the slide. It was very scary but enjoyable."
Mike said having the girls in their home brought back memories of when his children were still at home. Evenings were filled with dinner and homework, family time and chauffeuring to events.
"When they get together, they start laughing and joking and they pull us in. Those are the moments that have been the best," Mike said.
Both Rocky and Mike said the experience has been spiritually fulfilling as well.
"If you live in this materialistic culture our world seems to be in and you don't have as much spirituality, you want to be closer to God, your religion, your faith," Mike said. "Giving of yourself will do just that because it is an action. It is a forward, proactive way of giving. It is going to affect you in many different ways you don't even realize."