On June 9, eight devoted men will be Ordained to the Order of Deacon at the Basilica of the National Shrine of Mary, Queen of the Universe at 10 a.m. Please join Bishop John Noonan as we welcome them to the diaconate in the Diocese of Orlando.
Watch the ordination live via Facebook.com/orlandodiocese.org or live.orlandodiocese.org.
Lou Bartos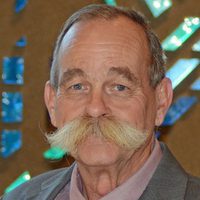 Lou and Kathy Bartos have been parishioners at Sacred Heart Parish in New Smyrna since 1986 and are co-owners of Halifax Veterinary Center. They have been married for 43 years and have two grown, married children, Jason and Mary Rebekah. They also have two beautiful grandchildren. Originally from New York, they settled in New Smyrna Beach to be close to family.
The couple has been active in ministries on the diocesan, parish and school level. A former park ranger, Lou's other passion is saltwater fly fishing. He and Kathy enjoy hiking, kayaking, biking and travel on their time off.
Kathy noted, "These past years of formation have fundamentally changed, not only how Lou views himself, but also how he views his place in God's plan. Lou looks forward with great anticipation to what the Lord holds for our future." Lou added, "I hope, as a servant for Sacred Heart and St. Gerard Mission, that I will be able to return, even in some small measure, the love, support and prayers our family has received over the years."
Thomas Cuff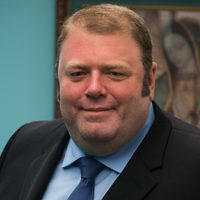 Tommy and Amy Cuff have been married for 18 years and have one daughter, Chloe. Tommy works for Legatus, an organization that brings Catholic business professionals together to emphasize the need to make Christ present in their respective marketplaces and spheres of influence.
Early on, Tommy and Amy felt an intense desire to address a spiritual void in their life. Tommy had been raised a Jehovah's Witness and Amy was a non-practicing Catholic. Through a series of events, the Holy Spirit led them to the Catholic Church. In February 2005, after visiting St. Margaret Mary Parish in Winter Park, Tommy entered the catechumenate with Amy at his side. He began learning the Catholic faith as Amy became reacquainted with it. Their family has worshiped at St. Margaret Mary ever since.
In addition to parish ministries, Tommy serves on the Board of Directors for KUDU, an organization focused on providing safe, nurturing environments for orphans in Kibale, Uganda. Tommy said he "feels blessed beyond measure to have journeyed through diaconate formation these last six years with my family." He added, "Amy has walked beside me, supported me, and shared in my discernment of God's call every step of the way." Chloe feels a very special attachment to the process and the people and does not want family formation weekends at San Pedro Center to end. "Not only is it a source of great joy to witness the happiness and closer relationship to God that this process has brought the family, I fervently believe it has prepared my family for a future of service to the people of God," said Tommy.
Mark Fry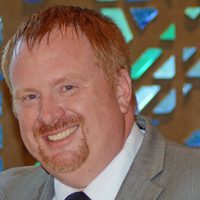 Mark Fry is the oldest of John and Elizabeth Fry's three children. Born in Cedar Rapids, Iowa in 1972, his career brought him from Oklahoma City to Altamonte Springs in July 2003. There he met his wife Gloria and married her four years later. He has worked for Travelers Insurance for 11 years as an auto claims adjuster/appraiser in the Orlando area. Mark, Gloria and his mother have attended Saints Peter and Paul Parish in Winter Park for the past 13 years and both Mark and Gloria enjoy serving at Second Harvest Food Bank.
Mark noted his formation experience has been filled with many challenges and graces, especially the time required in college courses and the intensity and complexity of the master's level classes. Although the one training weekend a month over the last five years was challenging, Mark says the graces have far outweighed the challenges in this 6-year formation. Waiting an extra year to apply to the 2017 allowed Mark to better discern and prepare for the formation process.
Sharing in this process with his wife Gloria has strengthened their relationship and allowed them to both grow individually and together. Mark said, "My vision for my family after ordination is continuing to integrate Diaconate ministry into my family life, parish life and the greater community."
Hector Fabio Isaza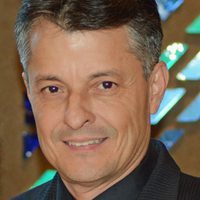 Hector Isaza refers to himself as a regular "cable man" who has worked in many other fields. He was born in the mountain city of Pereira, Colombia to "a very hard-working single mother" and has three other siblings. The family moved to Panama when he was 14, where he met and eventually married his high school sweetheart, Yelena.
The young newlyweds quickly left Panama due to the social and economic struggles and journeyed across the Mexican and American borders. They eventually found their way to Philadelphia where they started a family.
Lost in the responsibilities as a husband and father, Hector says he also lost the grip of his faith. Despite twenty years of difficulties, he said God shone a very strong light over him. While on a group retreat in Alaska, a priest asked Hector, "Have you ever thought of being a deacon?" Circumstances brought his family to Deltona where he knew the diaconate was the path he needed to take.
Hector says he is very happy because his marriage is as strong as it can be and his three kids are very supportive. He asks that the people of the diocese pray so one day "he can be the deacon God always intended him to be."
Anthony Medina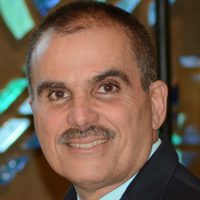 Anthony and Rosa Medina have four children: Anthony, Alexander, Rosalind and Axell and one grandchild. Anthony has been a bus driver for students with special needs for 17 years with Seminole County Public Schools. He arrived in Florida from Puerto Rico 20 years ago looking for work. Within weeks, he discovered St. Mary Magdalen Parish in Altamonte Springs where he joined the Catholic Charismatic Renewal in the Hispanic community and eventually participated at the diocesan level.
Anthony works with Share the Care, an organization specialized in adult daycare and respite for frail, physically and cognitively impaired adults, including those diagnosed with Alzheimer's disease.
"I have experienced many blessings during my formation years," said Anthony. "My cohort (2018) together with the formation team and all the other cohorts, have become a family in which I have found the strength and support at all times." Anthony added, "There have been big challenges that my family has overcome. First, I had to acquire the computer skills needed to pursue my studies. Second, at the beginning of my third formation year, my wife also decided to enroll in college and she required a lot of help due to the language barrier," he explained.
Anthony shared, "My vision for the future as a deacon family is to live my life as an example of service to those in need. As a married man and father, I have to be aware that my responsibility to my family comes first, and to maintain the proper family union I have to be able to properly balance family, work and my diaconate call."
Wilmar Rojas
Wilmar Rojas has been married to Martha Rojas-Montana since 1998 and they have two daughters, Stephanie and Nicole. He has owned a home remodeling company for the past 14 years and was born in Bogota, Colombia. As an active parishioner of the St. Maximilian Kolbe and St. Joseph's communities in east Orlando since 2009, he has been involved in many ministries, from catechist and sacristan to bass player in the Spanish choir. Wilmar has also mentored many men at the Central Florida Reception Center as they transition back into society from prison.
"The diaconate formation program has brought out of me a new person," Wilmar noted. "Before entering the program, I was dormant to God's plan for my life. I was going through life as most people, trying to be a good man, husband, raising good kids and being a good neighbor. Formation helped me realize that I was far from my potential and true calling. The call to the diaconate was subtle, yet so powerful that I couldn't deny it."
Wilmar added, "God has formed and enabled me to serve Him and His people as an ordained minister of the 'one, holy, catholic and apostolic Church'. Every twist, turn, up and down on the formation trail was an opportunity to grow, deepen, strengthen and edify my relationship with God and others. Trustingly, Martha, the girls and I are very excited to carry on the rest of God's plan for us."
Ed Struttmann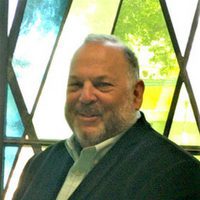 Edward (Eddie) Struttmann is one of five children. He married his high school sweetheart, Barbara, and they are active members of the Holy Name of Jesus Parish, Indialantic. They have one son, Chris, and a grandson, Grayson. Eddie's family relocated to Indialantic, Florida, from Washington, D.C. when he was a child because his father worked with the U.S. space program. His parents later opened a small plumbing shop that eventually became an Ace Hardware. Approaching its 50th year, Eddie now runs the local store. It was through his work at the family store and working an evening paper route that Eddie credits the development of a servant's heart. He runs his business as a way to help people, often mentoring young people toward a proper spiritual path.
Eddie attended Catholic school at Holy Name of Jesus in Indialantic, Our Lady of Lourdes in Melbourne, and Melbourne Central Catholic School. Eddie shares, "Working and serving people while immersed in a deeper Catholic school environment helped keep me grounded. This is where I learned to see the struggle in each individual and to do what I could to help."
While in diaconate formation, Eddie started working on a new ministry, Saint Stephen's Way. The ministry helps displaced men with families in the Brevard County School system secure dignified and safe housing. Saint Stephen's Way then coaches families toward a secure and independent future. Eddie is always saying, "Every person has a story" and this is how he will continue to approach people as a deacon of the community: listening to their story and helping them grow in their spirituality.
Wilfrid Tilus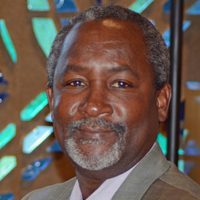 Wilfrid Joseph Tilus was born on December 5, 1956 in Port-au-Prince Haiti, the youngest of five brothers. He attended Our Lady of the Assumption Catholic Elementary School in Haiti. His family lived 100 yards away from the parish of Saint Bernadette where he and his brothers were altar servers and he sang in the church choir. During his high school years, he followed in the footsteps of his brother and became the leader of their parish youth group and a proud member of National Young Haitian Christian organization. He then became a freelance photographer, mostly covering church activities.
Wilfrid left Haiti in 1987 and migrated to Southern California, stopping in New York where he became reacquainted with the woman who would become his wife, Evelyne Lamarre. They married in September 1989 and had their only daughter, Natalie. When Natalie visited Florida to see Wilfrid's mother, her caretaker from birth, the family realized how much they missed family, so they moved to Kissimmee.
Wilfrid is now a translator of French and Creole documents for a company working with the Haitian community in Central Florida. The Tilus family has been actively involved at Saint Catherine of Siena Parish since 2005.
During a trip to a charismatic congress in New Jersey in 2010, Father Nazaire Massillon discovered Wilfrid's capacity and heart for service and suggested he join the diaconate. Overcoming three years of obstacles, he was accepted to St. Leo University. From that moment on, he knew it was God's will that he should be a servant of the Church. Wilfrid said, "I am looking forward to the day when I will be fully united with a group of people who have the desire to be the icon of Christ, the servant."
By Glenda Meekins of the Florida Catholic – June 4, 2018