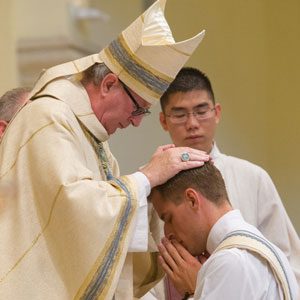 While most parishes have at least one ministry that promotes vocations – a Knights of Columbus council, youth ministry group, and cup and chalice ministry, for example – it is the responsibility of each of us to invite young men and women to religious life.
"We have no problem telling a young man with strong leadership skills that he should be an Army sergeant or a student with great science skills that she should think about medical school," said Father Carl Melchior, assistant director of Vocations for the Diocese of St. Petersburg. "We need to offer the same encouragement for vocations."
"We need to encourage our young people to think of the priesthood or religious life as a viable career," he continued. "We are all called by God to use our gifts and talents to build up his kingdom, what greater a way than as a priest or religious sister."
Father Melchior was the keynote speaker at the Diocese of Orlando's 6th Annual Parish Vocations Committee Workshop held on March 29 at St. Margaret Mary Catholic Church in Winter Park. The workshop is designed to offer ideas to parishes in promoting vocations within their parishes, schools and entities, said Father Jorge Torres, Diocese of Orlando, director of Vocations.
About 120 parish ministry leaders participated in the day-long event, which also included parish showcases, small group discussions and closing remarks from Bishop John Noonan.
In his address, "Growing the Faith in Young People, Father Melchior said the key to successfully promoting vocations in a parish is for ministries to harmonize their efforts. He also noted that many seminarians and novices tend to come from parishes with dynamic youth ministries.
Bishop John Noonan noted the important role priests play in the discernment process as well. He said one of the most important factors in a young man deciding to become a priest is simply being asked by a priest to consider the possibility.
Father Melchior concurred.
"Young Catholics are called by God to do something great," Father Melchior said. "As adults, it is our job to help them discern what that is."
Rick Grinstead, director of Religious Education and youth minister at St. Peter Catholic Church in Deland, is trying to do just that. Not only is he reaching out to the youth of his parish but to those of nearby Stetson University as well. He said he approaches religious vocations the same as he does lay vocations, saying that whatever God has blessed a person with–ability-wise and passion-wise–is what he/she is called to be. Becoming a priest or religious is the same as God wanting them to become a doctor, lawyer, or insurance salesperson.
"We make sure that everyone understands that they have been created for a reason and a purpose, and finding that out is only half of the equation, the other half is following through," Grinstead said. "By contemplating religious vocations with lay vocations, it helps to show that everyone is called–not just 'those people.'"
"In my time as youth minister, we have had several enter the religious life and it is such a blessing when that happens," he added. "It might take a village to raise a child but it takes a universal Church to help mold one in Christ's image."
Participant Mark Kniepmann, Youth and Young Adult Minister at Ascension Catholic Church in Melbourne, found a renewed energy at the end of the day. "We all know that there is a need for vocations for priests and religious life and that we live in a culture that is sliding farther and farther away from Jesus and His Church," Kniepmann said. "Still, we have some of the strongest and amazing parish and campus ministries that we have ever had. We have many young people embracing their faith to a level that far exceeds that of their parents. In addition, the young men in our seminaries are very impressive and on fire with the Holy Spirit."