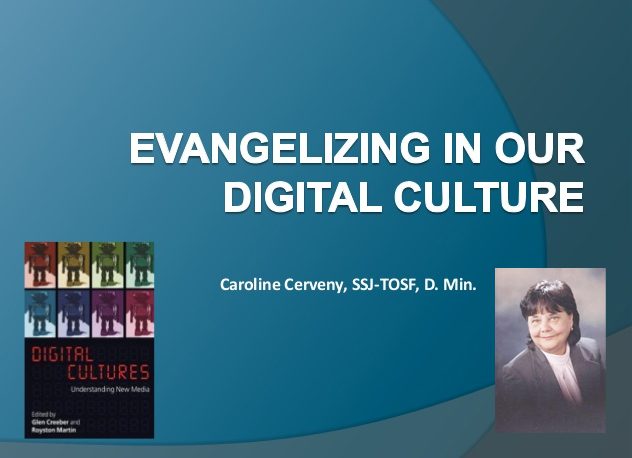 In these days before the Ascension, we are called to adjust to a radically new reality. Our Lord has risen and we are invited to examine our daily thoughts and behaviors in light of this transformation. In this Easter spirit, Franciscan sister, Caroline Cerveny shares her presentation entitled: "Evangelizing in Our Digital Culture" (http://www.slideshare.net/ccerveny/evangelizing-in-our-digital-culture).
Known for her annual conference, "Interactive Connections" (http://intconnect2013.wordpress.com/), Sr. Caroline has advocated the use of digital tools for religious educators for thirty years.
Through her Cyberpilgrim's blog (http://acyberpilgrim.org/), Digital Discipleship Boot Camp (http://ddbsample.wordpress.com/) and many speaking engagements, her tireless advocacy has enabled religious educators to share their encounters with our risen Lord in a radically new cultural context.
Please call Diane Gallagher or Dan Hardester @ 407-246-4897 (or 4895) for assistance in using audiovisual media in faith formation for all age groups.
(Dan Hardester serves as Secretary of the Evangelization Secretariat and Director of the Media Center.)