Join us Saturday, August 26, 2017 for a fully bilingual ministry day.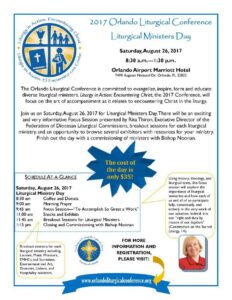 All presentations and breakouts with be done in both English and Spanish. The cost of the day is only $35! Click here to register today. 
There will be an exciting and very informative Focus Session presented by Rita Thiron, Executive Director of the Federation of Diocesan Liturgical Commissions.
Breakout sessions for each liturgical ministry.
An opportunity to browse several exhibitors with resources for your ministry.
Finish out the day with a commissioning of ministers with Bishop Noonan.
Únase a nosotros el sábado 26 de agosto del 2017 para el Día de los Ministros Litúrgicos.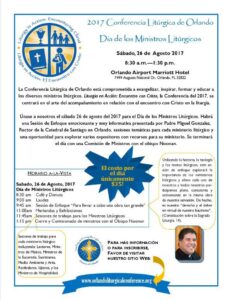 Todas las presentaciones se realizarán en inglés y español. ¡El costo por el día únicamente $35! Apriete acuí.
Habrá una Sesión de Enfoque emocionante y muy informativa presentada por Padre Miguel Gonzalez, Rector de la Catedral de Santiago en Orlando.
sesiones temáticas para cada ministerio litúrgico.
Una oportunidad para explorar varios expositores con recursos para su ministerio.
Se terminará el día con una Comisión de Ministros con el obispo Noonan.