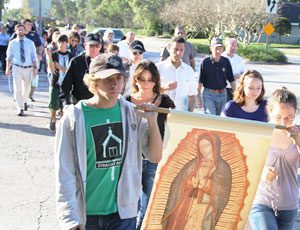 Standing in front of a local abortion clinic, her fingers gently clasping a rosary bead, Kathy Dinger, a parishioner of St. Mary Magdalen Catholic Church, held back the tears that filled her eyes as she prayed for innocent, unborn children and their parents during the Diocese of Orlando's "Helpers of God's Precious Infants" Mass and Rosary Procession, held at St. Mary Magdalen on December 7. Dinger was among about 50 Catholics from the diocese to participate.
"I have known some people who have had abortions so this really gets to my heart," Dinger said. "We have to forgive, but we also have to help these people overcome. Reconciliation to me is awesome in the Catholic Church because we do all make mistakes and we all sin. God is so forgiving, and yet we his people, here on earth are not as forgiving of other people."
The Helper's Mass and procession is a national ministry where participants maintain a loving, prayerful presence at abortion clinics. The vigils begin with the celebration of Mass in honor of the Blessed Virgin Mary and are followed by a rosary procession to a nearby abortion site. Participants of this Helper's Mass processed to All Women's Health Center in Altamonte Springs, about a mile from the parish.
"As Bishop Noonan said in his homily, we are to bring the Gospel to people by being a witness," said Deborah Shearer, director of the Diocese of Orlando Office of Advocacy and Justice. "We are to be a witness to people who may feel lost or abandoned, especially on this Feast Day of St. Ambrose who was a defender of faith and a proclaimer of the Gospel to a world that was in conflict and darkness."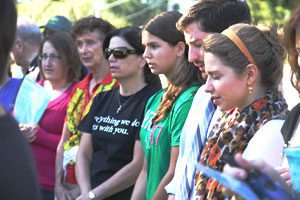 "We are called to do as the disciples, we are to bring that same message to the people at the abortion site who obviously feel conflicted and challenged and overwhelmed that they think to kill a life is their way out," she continued. "We have to witness the Gospel of life to them."
Heeding Bishop Noonan's call to follow the great teachers of our lives – St. Ambrose, St. Francis and our modern-day Pope Francis – and be living witnesses of God, Patrick Hayes, a Knight of Columbus for the St. James Cathedral Council 12402, said, "We need to show our faith and show our understanding that God is in our hearts. In doing so, maybe we will be able to save the life of an unborn child and bring another human being into this world."
Bishop Noonan thanked the Knights of Columbus for their ongoing commitment and efforts for Respect for Life.
"This organization has not only been a living reminder and example, but they have been an inspiration for their support of Respect Life," Bishop Noonan said. "As for those of you who will walk with us, I thank you for your witness and for your hope and for your faith."