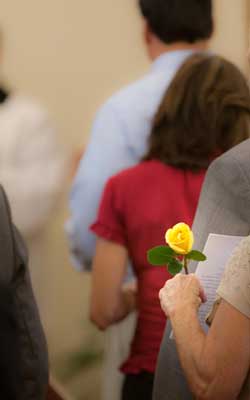 Lisa Calpey was baptized at St. John Vianney Catholic Church in Orlando and has belonged there ever since. She married her husband there and her children attend school there. Now she is taking action to preserve the parish for future generations.
Thankful for the many blessings she has received, Lisa and husband John felt compelled to share their blessings and the love of their parish by making a provision for the Church and its ministries through planned giving.
"St. John Vianney is my second home where I feel love, comfort, respite, community, welcome, joy and happiness – the same things I feel in my own family," Lisa said. "St. John's has helped me become who I am today and has educated, supported, and nourished my faith for my entire life, and is now doing the same for my children."
"It makes perfect sense that the passion I feel for my church continue to be what it has been for me for those in the future," she continued. "Leaving a gift in our will is an avenue to do just that. It is my thanks to St. John's and ultimately to God for the blessings I have in my life. I must share give of my first fruits and St. John's is my love and passion."
The Calpeys and 23 others with the same vision were inducted into the Diocese of Orlando Vivos Christi Society during an evening prayer service led by Bishop John Noonan on Oct. 1, the Feast Day of St. Thérèse of Lisieux at St. James Cathedral. The Vivos Christi Society celebrates and honors those who provide for the future of our local Church through a planned gift.
"Over the centuries countless people have been blessed by the work of the Church," said Meghan Post, president of the Florida Catholic Foundation. "In return, many good and faithful Catholics have given of their substance to support that work for the future.
"In the Scriptures, we read of those who gave of their livelihoods to support Jesus and his disciples in their earthly ministry," she continued. "That tradition continues today through the members of our Vivos Christi Society, who provide for the future of our diocese through a bequest or other estate gift. In the past three years alone, 70 estate gifts totaling more than $6.3 million blessed the work of our parishes, our schools, and the ministries of our diocese."
During the service, Bishop Noonan presented each inductee with a medallion and a Vivos Christi Society lapel pin. Inductees also received a yellow rose and prayer card in honor of St. Thérèse of Lisieux, the "Little Flower", patroness of the Vivos Christi Society. He thanked them for their generosity and urged them to follow their patroness' example and find joy in the little things in life.
"We are reminded by the Little Flower that it is in the little things that we do that we do great things for God," he said. "And if we do them with love, we find the greatest gift of all, we find the love of God every day."
The prayer service included a prayer near the newly restored statue of St. Thérèse of Lisieux located in the church's transept. Afterward, a reception was held at the St. James Parish hall, giving inductees the opportunity to mingle with priests and leaders representing the parishes and schools that will be provided for in the inductees' wills, trusts and estates.
Editor's Note:
The purpose of Vivos Christi Society is twofold: It is a way to celebrate and honor those who have already made a provision for their Church in their will or estate plan, and it provides the opportunity to invite others to prayerfully consider such a gift through the gesture of a bequest. For more information about planned giving, visit the Catholic Foundation's website at www.catholicfoundationcfl.org.