After 11 people were killed and 6 more wounded at the Tree of Life Synagogue in Pittsburgh, the faithful of Central Florida joined in solidarity to pray and remember. The Stop the Hate interfaith gathering at Congregation of Reform Judaism in Orlando on Oct. 30 was a witness against hatred in the name of love.
Police say the suspect, Robert Bowers, opened fire just before the Shabbat morning service of Oct. 27. "When I heard the news of this tragedy, I prayed for our Jewish brothers and sisters who are suffering," said Bishop John Noonan. "We cannot forget that those who were praying at Temple are united with us through God. I pray for those troubled within our world and for us that we might extend God's healing hand to all His people. Now, in solidarity, we pray with the larger community of faith that God's peace be upon us."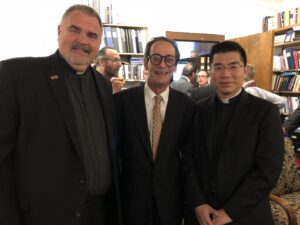 Diocese of Orlando vicar general, Father John Giel, and Father Martin Nguyen, director of ecumenism for the diocese, joined the Memorial to pray. "This was the first time that I got to step foot into a Synagogue, unfortunately for a very somber occasion," Father Nguyen remarked. "I remembered the first time Pope John XXIII, when he visited the Synagogue in Rome, and said to the rabbi, 'I am Joseph, your brother.' And that's just it. We are one human family and we come together in situations like this, not so much to solve anything, but to hold each other in times of sadness and as a big family, to pray together."
More than 1,600 people filled the Temple to mourn the loss of their brethren, to pray for them, for their families, and for the wounded. From the prayers to the songs, it was a "deeply touching and emotional" experience, said Father Giel. "You felt like you were in a Jewish home. It was comforting to hear the ancient remembrance prayer for the souls of those lost. To hear of the promise of the hereafter was very reassuring."
Addressing the disturbing trend toward division and hate, Father Nguyen stated, "Sins and evil, by nature, are divisive. In order to overcome evil, darkness, we as individuals ought to come together often to work for the good. When we begin to work together; when we learn to talk and get to know each other; then we can learn to disagree with each other on the level of ideas, but still love the person as persons."
Leaders from the Buddhist, Hindu, Catholic, Protestant, Sikh, Jewish and Muslim communities came to pray in a show of solidarity. The standing room only crowd listened in somber silence as the photos of each of the victims appeared on large screens as their names were called, punctuated by poignant tones from a cello.
Former Seventh Day Adventist minister and executive director of the Interfaith Council of Central Florida, James Coffin, noted, "Right now, it happens to be the Jewish community that is going through this very tragic situation, but down the track it could be somebody else. Historically, over the past 100 years, it has moved around a bit as to who it is that is the unfortunate victim. Certainly, Catholics have had their turn at that kind of thing if we look further back."
Pointing out the faith leaders represented, he added, "All of those non-Christian faith traditions have, in some way, encountered a significant amount of bigotry." He recalled the 2012 shooting of six people at the gurdwara (Sikh Temple) in Wisconsin, the two Hindu men shot in Kansas in 2017 simply for being different, and of course the Muslim people who have faced much defamation and racism.
"Above all else, despite the differences that each religion holds; we are united in a lot of commonality," stated Father Nguyen. "We are united in our humanity, in our struggle, and in our wish for a better and happier world."
Soloist Jacqueline Rawiszer led the memorial with "O God this Day We Grieve." Scripture readings and Hebrew prayers and songs followed, inspiring courage, such as La-avor et Ha-Gesher (The whole world is a narrow bridge, and the essential thing is not to fear at all) from the famed Hassidic Rebbe, Nahman of Bratzlav, made popular during the Yom Kippur War. The song was a stark reminder of the battles of anti-Semitism fought by Jews for centuries.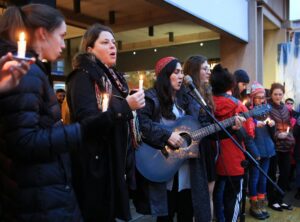 Those who knew the Kaddish, a prayer of thanksgiving to God, joined in, acknowledging that, despite their sorrow, God is to be praised. These words expressed a certainty in and ultimate accountability to Our Creator. In a compelling acclamation, Rabbi Steven Engel of the Congregation of Reform Judaism stated, "Words do matter…" He challenged the assembly to be convicted by their own words. "I call out every leader in every aspect of society to take responsibility for the words that you say because to have the power without the responsibility is perverse, it's reprehensible and it borders on a form of evil," he stated. "…if we want to create an atmosphere and environment where hate speech and fear and the demeaning of others is not acceptable, then it is up to us to make this happen."
Referring to hate crimes, Rabbi Maurice Kaprow, Ed.D., B.C.C., a Vitas chaplain, member of Ohev Shalom Temple in Maitland and a member of the Greater Orlando Board of Rabbis, coordinators of Stop the Hate, said "It's the tragedy of our times." Although he does not claim to have the solution, he stated he believes it begins with prayer, followed by education. "I remember when I was younger, if you and I had different opinions, we could disagree and be friends. There is no such thing anymore. What happens today in the public air space is, if I disagree with you, then I'm evil. That is the perception that many, many people have of people that don't think like them. We have to join forces to work together and get people to understand that this division permeating our country is harmful."
He says he tells his two sons and five grandchildren, "There are people in the world who are evil people who do evil things… They want to eradicate people they don't agree with. We need to reach out to them. We need to build a community of love. We need people to understand that every single person in this world brings something. Every religion brings something to the table. People of every religion have added to the knowledge and well-being of the world.
"We have to demonstrate to the world the similarities that we have, and we have to build on them." He noted the many contributions of the Jewish community in scientific and technological development as an example.
"I can't force you to have respect, but I can educate you to hopefully engender respect," he added. "You have to take the first step and show the unity of the people. That is what happened tonight. The aim was to turn around and show that people of all faiths, of all colors, of all religions are, in fact, united against violence and hatred. That is the key message."
By Glenda Meekins of the Florida Catholic – October 31, 2018