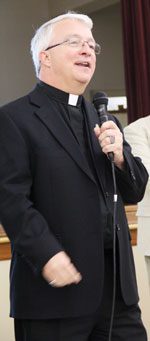 Betty Hoffman thought that her eldest son, Christopher, may become a priest when at a very young age, he asked if he could baptize the dog. Still, the mother of three boys prayerfully waited for God to reveal His plan for her son. On Dec. 5, 1987, Father Christopher Hoffman (pictured left) was ordained into the priesthood and now serves as pastor of Our Lady of Hope Catholic Church in Port Orange.
Betty and Ken Hoffman, along with Lee and Mary Dorsey, parents of 5th year seminarian Chris Dorsey (pictured below, right), spoke on the parents' role in a child's discernment at the Diocese of Orlando's 5th Annual Parish Vocations Committee Workshop on April 27 at St. Margaret Mary Catholic Church in Winter Park.
"You wait, you watch and you listen and you pray," Mrs. Hoffman said.
Since their children were young, the Dorseys put the Church and their faith at the center of their family life. Still, neither foresaw their youngest child entering the priesthood.
"We raised our family in prayer," Mary said. "At an early age, we are forming our children into whatever God is calling them to be. As parents, we are nurturing that call and discovering that call. We did not push for a vocation. It was something that was revealed to Chris and he responded."
"As a family, you are not laying the groundwork to raise a priest," Lee said. "You are laying the ground work to build the best person you can and to let your children know that Jesus is part of your family, that God is the guy driving."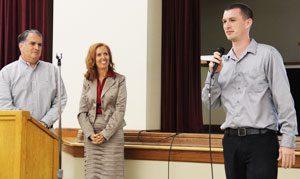 The parish priests played an important role in the Hoffman boys' everyday lives. Ken said that throughout the years, the priests would often visit their home and share the evening meal with their family. In addition, Betty's brother was a priest. As a result, the boys got to know the priests as people and were comfortable around them. Still, he and Betty tried to lead by their example.
"Our faith life was not only about going to Church on Sundays, but it is a way of life," Ken said. "Our children need to see how we live our lives day in and day out both at home and away from home."
"Family is very important in a call to vocation because that is where I first learned my faith," Chris said. "It is where I grew so that when I did hear that voice asking me what about the priesthood, I knew it was something I needed to pay attention to. My family is my foundation."
To learn how to start a vocations committee in your parish, contact Vocations Services at 407-246-4875.