ORLANDO | Taking to the runway modeling fashions from top local boutiques, students, parents, alumni, and staff at Morning Star Catholic School raised funds at the 58th annual, A Runway for Giving. On hand to provide support and emcee the show were Brian Shields of WFTV and Sonni Abatta Orosz, former news anchor and current blogger.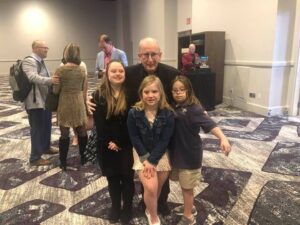 Nearly 400 guests crowded the Loews Sapphire Falls Resort at Universal Orlando on Friday, February 7, for the event. Guests enjoyed mimosas, a silent auction, luncheon, and fashion show, all to benefit the school. Presented by Eric and Diane Holm of Golden Corral, some of Winter Park's finest boutiques including Tuni, John Craig, The Grove, See, The Collection Bridal, and Arabella, Charyli, Violet Clover, and J. McLaughlin provided the fashion.
With the assistance of event chair Joy Breske, Morning Star Catholic School student, Zoe, presented Shields and Abatta Orosz with art she created especially for this year's show. Bishop Moore Catholic School student Bella and Morning Star students Destiny, Bonnie, and Carlamarie performed the song Go Make a Difference for guests. Bishop John Noonan popped in to say hello and thank donors.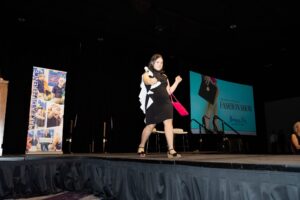 Since 1960, Morning Star Catholic School has been working to fulfill its mission to provide children with special needs the opportunity to embrace their potential – to enable students to function more independently and guide them on their spiritual, academic, social, physical, and emotional journey.
By Glenda Meekins of the Florida Catholic February 21, 2020