This conference is designed for leaders in all parishes and dioceses striving to provide faithful and dynamic catechesis for people of all ages. This gathering presents the most innovative practices and resources for lifelong faith formation through dynamic keynote presentations, renewing prayer, inspiring music, and hands-on worship.
Orlando, FL
January 5-7, 2012
As the Body of Christ, we are formed by our participation in the Eucharist and we are sent in mission to share the love of Christ to all people. Join us as we explore the many ways in which Eucharist forms people of all ages for our shared mission.
THURSDAY NIGHT CELEBRATION OF FATIH
FORMED AS A EUCHARIST PEOPLE
Our Thursday evening session will be an opportunity to remember our identity as a Eucharistic people and to envision our role in sharing Christ's love and presence in our communities. Together, we will proclaim, celebrate, and explore our call to Eucharist through music, reflection, witness, prayer, and ritual.
Presented by

Bishop Robert F. Morneau was ordained as Auxiliary Bishop for the diocese of Green Bay, Wisconsin on Feb. 22, 1979.. Through the years, he has served the Diocese as a member of the College of Consultors and the Diocesan Finance Council; as the Vicar for Priests and the Vicar General; and as pastor of Resurrection Parish in Allouez. He is a reader of poetry and prose, and peppers his homilies and talks with references to his favorite literary treasures. A poet and author himself, he has written several books, and many of his essays appear in such periodicals as U.S. Catholic, St. Anthony Messenger, AMERICA and Emmanuel. In addition to writing, he gives retreats and lectures throughout the United States to lay groups as well as bishops and cardinals. He is considered the U.S. Catholic Church's premier resource on stewardship, an expression of discipleship through which we gratefully receive God's gifts, tenderly care for them, generously share them, and humbly return them to God.
FRIDAY MORNING KEYNOTE
CATECHESIS FOR AND BY EUCHARIST
Catechesis forms us for Eucharist. Throughout our lives, we are also formed by Eucharist to share Christ's love and healing message throughout the world. This keynote presentation will propose a vision for lifelong faith formation that flows from our sharing in Eucharist.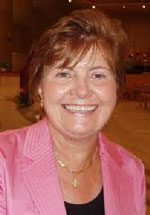 Presented by
Sister Edith Prendergast, RSC, who is the Archdiocesan Director of Religious Education for Los Angeles. Sr. Edith holds a Masters Degree in Theology from Boston College and a Doctorate in Ministry from Claremont School of Theology. She is the author of Grace Abounds – A Call to Awaken and Renew Your Faith, published by Ave Maria Press (2011). She has also served on the board of directors for the National Conference for Catechetical Leadership. An engaging speaker, Sr. Edith covers her subject well with humor, spirituality, and soft-spoken understanding.
SATURDAY MORNING KEYNOTE
SENT IN MISSION
In sharing Eucharist, we become what we receive, which compels us to be sent in mission to incarnate the love and healing presence of Christ in the world. This keynote will present an understanding of our shared mission that flows from our sharing in the bread and cup.
Presented by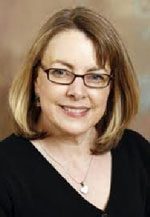 Joan Rosenhauer, who joined CRS in April 2009 and is responsible for leadership of the agency's mission to help Catholics in the United States put their faith into action and answer the Gospel's call to live as one human family. Prior to joining CRS, Ms. Rosenhauer spent 16 years with the U.S. Conference of Catholic Bishops (USCCB), where she most recently served as Associate Director of the Department of Justice, Peace and Human Development. Ms. Rosenhauer hails from Chicago and has a B.A. in Social Work from the University of Iowa and a Master's degree in Public Policy Management from the University of Maryland.
SATURDAY EVENING LITURGY
Presider will be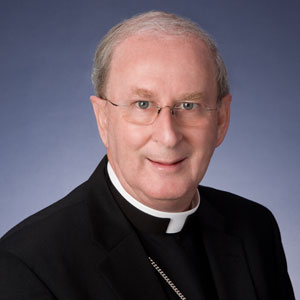 Bishop John Noonan, who serves as the Bishop of the Diocese of Orlando. Bishop Noonan was ordained to the episcopacy on August 24, 2005 at the Cathedral of St. Mary, Miami and had served as auxiliary bishop in the Archdiocese of Miami since that time. He was ordained to the priesthood on September 23, 1983 for the Archdiocese of Miami and has served in the roles of parochial vicar, youth ministry chaplain, supervising principal, director of priestly life and ministry and rector/president of St. John Vianney College Seminary.
EXCITING PRE-CONFERENCE EVENTS
For 2012, there are three exciting opportunities to extend your learning as a ministry leader including topics that focus on liflong faith formation, adolescent catechesis and justice immersion Watch for details.
DYNAMIC SPEAKERS AND PRACTICAL WORKSHOP TOPICS
Workshops and Tracks will include:
Children's Catechesis
Youth Ministry and Adolescent Catechesis
Catechesis for Adults
Family Catechesis
Intergenerational Faith Formation / Whole Community Catechesis
Initiation Ministries
Sacramental Preparation
Catechesis for Justice / Parish Social Mission
Leadership in Pastoral Ministry
Music Ministry and Liturgical Catechesis
SPECIAL HOTEL RATES AND REGISTRATION FOR CONFERENCE PARTICIPANTS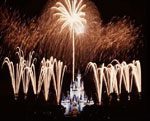 Plan now to attend this exciting event and take advantage of the special room rate of $99.00 per night at the Hilton Disney Resort. As you budget and plan for your participation, keep this information in mind:
Early Bird registration is $199.00 per person
Other discounts are available for multiple participants
Room rate for the Hilton Disney Resort is just $99.00 per night for single or shared rooms. (Compare this to their standard rate of $279.00!)
Hospitality provided by the conference includes a welcome snack and beverage, morning coffee and an appetizer, dessert and beverage reception Thursday night