LAKE WALES | Father David Vargas arrived at Holy Spirit Parish in Lake Wales in 2016. In the four years since his arrival, he has established roots and encouraged the creation of numerous outreach and service programs. On Jan. 18, Bishop John Noonan honored those efforts, installing him as pastor.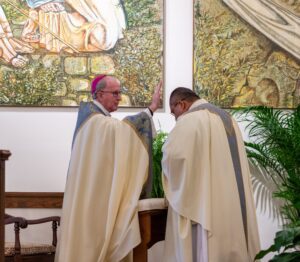 "It's wonderful. I feel so great. This is a wonderful community," said Father Vargas. "To be a pastor, I feel closer and able to help them more and more. It's a blessing from heaven."
Father Vargas first served at St. Joseph Parish in Lakeland. Originally ordained to the Order of St. Augustine in Chicago, IL, he travelled to Central Florida to assist his ailing parents. He was soon taken in by Bishop Noonan's "teaching and closeness with the priests". Upon much reflection and prayer, he requested incardination and on Sept. 11, 2019, Father Vargas was incardinated in the Diocese of Orlando. "I am glad to find a place I can feel is home," he said.
Since his arrival at Holy Spirit, his work with Catholic Charities of Central Florida has brought a Mobile Senior Center and Agape Mission Market to the parish. The mission market also provides some case management and immigration counseling.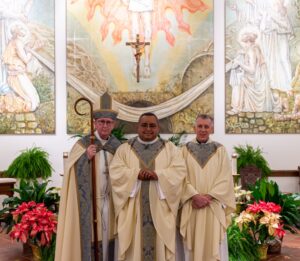 "I would like us to continue working to be the body of Christ," he said. Holy Spirit is one of 12 parishes participating in the Next Generation Parish Experience, a four-year program designed by Catholic Leadership Institute to support, build and sustain the Church for future generations. "As a Next Generation Parish, I hope to help everyone get on the path of this mission to build the kingdom of heaven," adding Father Vargas. The hope is to make disciples that make other disciples, growing God's kingdom one person at a time. The parish is in its second year.
By Glenda Meekins of the Florida Catholic January 22, 2020