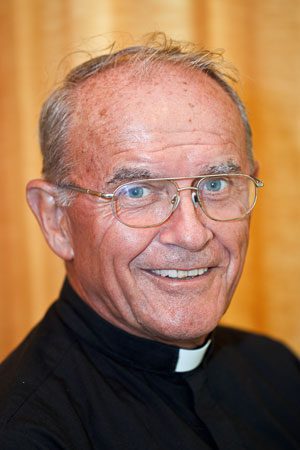 His parishioners call him Father Smiley. For 25 years, Father Pat Sheedy has joyfully led his parish community of Blessed Trinity in Ocala with a strong focus on social justice and stewardship.
"Fr. Pat is dedicated and tireless in working to accomplish God's work here on earth," parishioner Marianne Geddings said. "He has made caring for the poor a priority in our parish. He always encourages mission work and people who are willing to travel to other countries to help the less fortunate. Our parish also supports the poor of Ocala through a soup kitchen, thrift store and food pantry."
Father Sheedy grew up on a farm in Ireland, the fourth of 12 children. As a boy, he dreamed of running the family farm; however, God had other plans. At the age of 17, Father Sheedy followed in the footsteps of his three uncles, who were priests, and three aunts, who were sisters, and chose the life of religious. Years later, he would learn that his father also studied to be a priest, but left the seminary to tend to the family farm.
On June 13, 1965, Father Sheedy and his brother were ordained to the priesthood – Father Sheedy for the Diocese of St. Augustine and his brother for their home diocese in Ireland. The occasion was made even more memorable as it was also the date of their parents' wedding anniversary.
Father Sheedy has served in a number of parishes throughout the Diocese of St. Augustine and what is now the Diocese of Orlando. In addition to Resurrection Catholic Church in Jacksonville, he has served at Our Lady of Lourdes Catholic Church in Daytona, St. Charles Catholic Church in Orlando, and St. Joseph Catholic Church in Lakeland. In 1988, he was assigned to Blessed Trinity.
Under his leadership, the parish has grown tremendously. In addition to overseeing the addition of several buildings to the parish and school landscapes, Father Sheedy also played an instrumental role in the establishment and construction of Trinity Catholic High School. Participation in faith formation and Catholic education programs has surged throughout the years under his guidance.
"Catholic education is important to me," Father Sheedy said. "When we grew up (in Ireland), all we had was Catholic education. In my mind it was not natural to go to a school that was not part of your religion. To me, your faith, your education and all of your upbringing should be integrated."
The parish began offering Perpetual Adoration, a ministry that continues 20 years later, as well as day care and elder care services. The faithful have welcomed sisters from Uganda to the parish and established the Guadalupana Mission.
In 2003, parishioners forged a relationship with the faithful of Nalweyo, Diocese of Hoima, Uganda, in the hometown of one of their resident religious, Sister Juliet. A year later, the parish sponsored the first of dozens of mission trips to its sister parish, and in the past decade has built a church, elementary school, high school , cafeteria, dormitory and clinic in Nalweyo plus 28 mission churches in outlying areas.
While the parish has flourished in the past 25 years, Father Sheedy takes no credit for the good works of the people of Ocala. Instead, he gives full credit to his Heavenly Father.
"Our biggest responsibility as priests is not to get in God's way," Father Sheedy said. "Wonderful inspirations come from God. We have been fortunate enough to lead a stewardship way of life in our parish. It is a matter of faith, of keeping God up front and things happen that you never dreamed of happening. Things fall in place as long as you don't get in the way."
Still, the parishioners feel truly blessed to have had Father Sheedy at the helm of Blessed Trinity for the past 25 years.
"I have a hard time separating Fr. Pat and stewardship," Geddings added. "He has made stewardship a reality and a way of life at Blessed Trinity. It is truly a gift when people realize that everything comes from God, and it's only natural to want to give back to God and His people. That's what we've learned from Fr. Pat through his years here in Ocala."