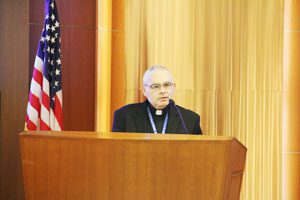 Missionaries of Our Lady of LaSalette Father Robert Susann, Diocese of Orlando airport chaplain, was honored by the Greater Orlando Aviation Authority (GOAA) on December 4 for his years of dedication, service and ministry to the more than 35 million travelers, visitors and 17,000 employees of the Orlando International Airport. The GOAA presented him with the resolution and declared the day "Father Susann Day," before a standing-room-only audience.
"Fr. Susann is the very first person I met when I walked into this room for the first time as a Board member," said Frank Kruppenbacher, chairman of the GOAA Board. "This kind gentleman came up to me and said, 'Hi, I am Father Susann and if there is anything I can do for you or anyone at the airport, I am here.' I have never forgotten that Father. I think it is your hallmark just how open you are to the human spirit."
The resolution spoke in part of Father Susann's contributions to the airport community throughout the past nine years. Father Susann was named chaplain at OIA in 2004 as part of the diocesan Tourism Ministry, which is dedicated to sustaining the spiritual well being of millions of airport patrons every year. He is known throughout the airport community and is recognized for his constant presence providing comfort, guidance and reassurance to people of all faiths, through his visibility, accessibility, and humanity.
In addition, the resolution reads, Father Susann's daily sharing of blessings, and contributions and small kindnesses, help impart a sense of serenity to ease the stresses of travel, as he remains committed to his calling to make a difference in the world by ministering at the airport, where the world's diversity of nationalities, cultures, and beliefs is represented as part of the global congregation.

"He has truly built a community of faith," Kruppenbacher added.
As he humbly accepted the award, Father Susann gave a glimpse of what he does as an airport chaplain.
"I welcome the traveler, and give hope where hope is needed," he said, adding that more importantly, he strives to be a servant of God. "As the prophet Micah says to all of us, 'love tenderly and walk humbly with God.'"