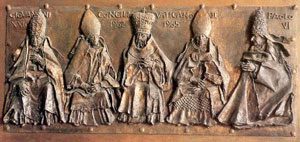 A press conference was held on Thursday, February 13 in the Holy See Press Office to present the Symposium "Sacrosanctum Concilium. Gratitude and commitment for a great ecclesial movement", organized by the Congregation for Divine Worship and the Discipline of the Sacraments. The congress, organized in collaboration with the Pontifical Lateran University and scheduled to take place from 18 to 20 February, will commemorate the 50th anniversary of the Council Constitution on the Sacred Liturgy, promulgated by Pope Paul VI on 4 December 1963.
The speakers at the conference were Archbishop Arthur Roche, secretary of the Congregation for Divine Worship and the Discipline of the Sacraments, Msgr. Juan Miguel Ferrer Grenesche, under-secretary of the same Congregation, and Philippe Chenaux, professor of modern and contemporary history of the Church at the Pontifical Lateran University and director of the "Vatican Council II" Centre for Study and Research.
In addition, a text prepared by Cardinal Antonio Canizares Llovera, prefect of the Congregation for Divine Worship and the Discipline of the Sacraments was read by Msgr. Juan Miguel Ferrer Grenesche, and a text by Bishop Enrico dal Covolo, S.D.B., rector of the Pontifical Lateran University, was read by Professor Philippe Chenaux.
Cardinal Canizares commented that the Council was "an invitation to the Church to be herself, as God wished her to be and created her, and to act in a manner coherent with her vocation and with the mission that God Himself has given her. … With this beginning, which focuses on the theme of the Liturgy, the emphasis is unequivocally placed on the primacy of God in the Church; God first of all. … When God is not in first place, everything else loses its way".
The Vatican Council II Fathers demonstrated this priority first by approving the Constitution "Sacrosanctum Concilium", clarifying that "worship comes first; God comes first. Therefore, beginning with the theme of the Liturgy, the Council explicitly turned attention to God's primacy and at the same time indicated it as a sure point of orientation for the path to be followed in the future".
With regard to "gratitude" and "commitment", the prelate added, "We must, indeed, thank God for this first fruit of the Council … not only for the Constitution itself, but also for the renewing dynamism of the Church that it has given rise to, and continues to provide. At the same time, urgent commitment on our part to the continuation and deepening of the liturgical renewal hoped for by the Vatican Council II is now called for. It is true that much has been done, but there remains much still to do".
The Symposium will include a component dedicated to theological and pastoral reflection, and will offer important opportunities for celebrations and time for prayer; ample space will also be dedicated to the beauty of art in the service of liturgy, represented by concerts and exhibitions. The participants will meet with the Holy Father on Wednesday 19 February during the general audience.