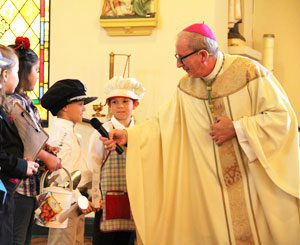 Christopher waited patiently as Bishop John Noonan made his way down the line of saints standing on the steps of the altar, talking to each one. Standing last in the line of 26 first graders at All Souls Catholic School, he was eager to tell Bishop Noonan that as St. Michael the Archangel, he was the protector of all.
"He fought Satan and he won," Christopher said. "He is cool."
Bishop Noonan celebrated the Solemnity of All Saints with the students of All Souls on Friday, Nov. 1. The solemnity is celebrated on the first of November to honor all of the saints, people who have entered the heavenly Kingdom of God.
"In sports, we have MVP, the Most Valuable Player," Bishop Noonan said. "When we have movies, people get Academy Awards. When it comes to the Church, our Hall of Famers are saints because they are the people we try to imitate in our lives."
"Today you have reminded us of all the important people who help us," said Bishop Noonan speaking to the children. "The most important thing the saint wants to remind us of is to come to know Jesus."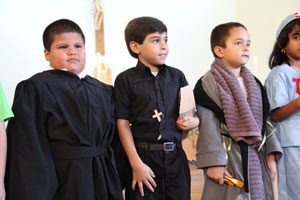 The first graders have been studying the saints in class. Each chose a saint to research and portray for the celebration of Mass. Each also made a brief presentation to their classmates. Among the saints in attendance were St. Rose of Lima, St. Margaret, St. Luke, St. Francis de Sales and St. John the Baptist.
"St. Lawrence died for the Church because he brought the poor and the sick to the Emperor and wanted them to be in the church," Justin said. "He was a nice guy."
Jennifer Heneghan, principal, said the purpose of the project is to bring to light that the saints were ordinary people who did extraordinary things in the name of God.
"The Catholic faith is so deeply rooted in the saints, the martyrs of our faith, the evangelizers of our faith," she said. "We want our children to look to them as examples of how they should live their lives. The saints were regular people who chose to do God's work, and we are to do the same."