WINTER PARK I Legacy families, those with multiple generations who attended the same school, are not uncommon in Diocese of Orlando Catholic schools, nor are alumni who return to their alma mater to teach the next generation of students. However, legacy educators are unique.
Aubrey Dunn, first grade teacher at St. Margaret Mary Catholic School, fits that distinctive category. A 2007 alumnae, Dunn marked the third generation of the Dunn family to graduate from the Winter Park school. When she accepted her first teaching job, she became the second generation of the Dunn family to teach at the school.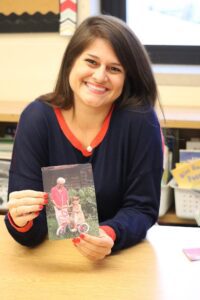 Aubrey's historical ties to St.  Margaret Mary date back to 1954 when the school was founded. Her great-grandmother, Mary Dunn, was the school's first kindergarten teacher.
"I love that I am carrying on the legacy of my great-grandmother," Aubrey said. "This place is so special, especially with my family ties here."
Although Mary's tenure at St. Margaret Mary was short-lived – she went on to teach and serve as the reading specialist in Seminole County public schools. She later founded the PACE School in Longwood at the age of 63. Aubrey said her great-grandmother instilled a love of reading and learning in her heart.
"I was young when my great-grandmother passed away," Aubrey said, "but I do remember reading to her. She always asked me to read to her. She loved to hear me read."
Mary was also the first of four generations of teachers in the Dunn Family. Mary's daughter-in-law, granddaughter-in-law, and now great-granddaughter were or are teachers. And like the senior Dunn, Aubrey and her mother have backgrounds in special education.
"My grandma said she learned so much from her mother-in-law because she was such a great teacher and was so good with the kids," Aubrey said. "She tells me that she learned more from my great-grandmother than she ever learned in college."
Katie Walsh, principal, said having the second generation of Dunn educators on campus is special to the St. Margaret Mary Catholic School community. "Having Aubrey as a teacher at St. Margaret Mary is truly a blessing to our school community and especially to her students," she said. "It is fitting that Aubrey would begin her teaching career here where her great-grandmother taught, for St. Margaret Mary Catholic School is woven into the fabric of Aubrey's life."
As for Aubrey, she said teaching at a Catholic school in the diocese, especially at St. Margaret Mary, was a given in her career plans.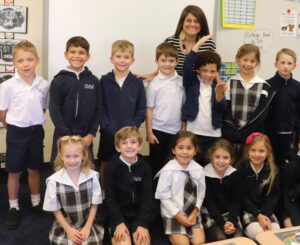 "Every year I was here at St. Margaret Mary, I wanted to be a teacher. Whatever grade I was in at the time was the grade I wanted to teach," she said. "I have such fond memories here. This is where my faith was built, where my lifetime friendships that have turned into family were begun. I obviously really loved it because I am back. I am now working with some of the teachers I had. St. Margaret Mary feels like home."
Aubrey hopes to instill an early love for learning in her students, much like her great-grandmother and her teachers at the school did for her.
"I want my classroom to be a safe place, and a place where learning is obviously going on," Aubrey said. "I want my students to learn about life and learn how to love God and be kind to one another. I want to teach them how to look for the good in others."
Linda Caldwell, Special to the Florida Catholic