Catholic Charities USA, a national organization representing 166 diocesan Catholic Charities agencies, is deeply concerned about the recent policy of family separation at the border. We recognize that protecting and securing our borders is important, yet we must find ways to ensure the safety of refugee children, some of whom are babies and toddlers.
Join us in lending your voice, your prayers and your commitment!
The ongoing practice of separating children from their parents has, as of May, left nearly 2000 children separated from their parents.  As Bishop Vásquez, Chairman of the U.S. Conference of Catholic Bishops' Committee on Migration, and Sister Donna Markham OP PhD, president and CEO of Catholic Charities, remind us – as a nation and people of faith, we can and must do better.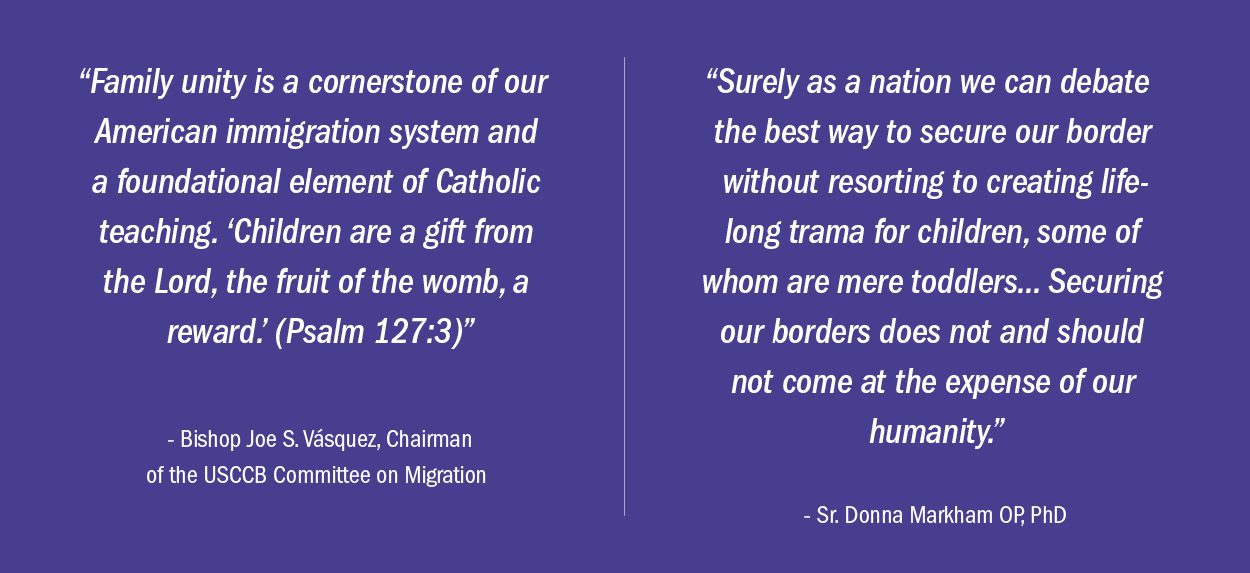 Ways You Can Help
Pray
You can find a prayer for migrant children here.
Speak up
Sign our Action Alert and share with your networks. Also, consider contacting your senators and representative directly by phone to voice your concern. You can find the number of your representative here and your senators here.
Take action
Contact your local Catholic Charities affiliate to learn about their material/volunteer needs, consider fostering an unaccompanied child or join the Share the Journey global solidarity campaign with migrants and refugees.
Give
To support agencies that are helping families and children impacted by the crisis. (100% of your donation will go to the 21 Catholic Charities agencies assisting unaccompanied children) Click here to donate.
Learn more
To learn more about Family Separation, visit the Justice For Immigrants (JFI) "Family Separation Webpage" to review backgrounders, educational material and a webinar.