Updates on:
Society Cannot Overcome Violence with Violence; Catholic Bishops of Florida Urge Governor Scott to Spare the Life of Darius Kimbrough
The Florida Catholic Conference urges Governor Rick Scott to spare the life of Darius Kimbrough, who is scheduled for execution November 12. We deeply mourn the tragic murder of his victim, Denise Collins, and pray for her family's comfort and healing.
The current practice of state-sanctioned killing in the name of Florida's residents is not the answer to heinous crimes such as Mr. Kimbrough's. Rather than deter violent crime in our society, the death penalty perpetuates the cycle of violence and contributes to a growing disrespect for the sacredness of human life. Justice can be served without resorting to the deliberate taking of a human life. Just as God spared Cain's life but banished him into exile, so too can lives be spared through the alternative of life imprisonment without the possibility of parole.
Catholic faithful and members of the community are invited to gather in solidarity to pray for the victims of violent crimes and their families, for persons on death row awaiting execution, and for the end of the use of the death penalty.
Click here for times and locations of prayer services to be held around the state.
November 13: National Call-In Day for Federal Immigration Reform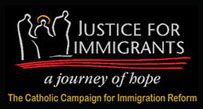 On Wednesday, November 13, the feast of Saint Frances Cabrini, patron of immigrants, Catholics and supporters of immigration reform are asked to call their U.S. Representatives toll-free at 1-855-589-5698 and leave a simple message.
On that day, callers dialing into the toll-free number will hear a short recording instructing them to give the following message to their member of Congress:
"Support a path to citizenship and oppose the SAFE Act."
After the recording, callers will then be prompted to enter their zip code on their telephone keypad and will be connected directly to their Representative's Washington, DC office.
H.R. 2278, the Strengthen and Fortify Enforcement (SAFE) Act was approved by the U.S. House of Representatives' Judiciary Committee on June 18, 2013. This bill focuses on immigration enforcement that will increase detentions and deportations and encourage racial profiling further jeopardizing vulnerable populations. Additionally, the SAFE Act would criminalize humanitarian acts of assistance to undocumented persons.
Bill to Protect Unborn Victims of Violence Passes First Committee of Reference
During committee meetings held this week in advance of the spring 2014 legislative session, SB 162 (Stargel) was debated and passed by the Senate Criminal Justice Committee (5-2). This bill creates the Florida Unborn Victims of Violence Act and provides that a person who engages in criminal conduct that causes the death of, or bodily injury to, an unborn child commits an offense separate from crimes against the pregnant woman. The FCCB supports this bill, which now waits to be heard by its next committee of reference, Judiciary. House companion HB 59 (Ahern) is in the Criminal Justice Subcommittee, its first committee of reference.
2014 Catholic Days at the Capitol – Registration Forms Now Available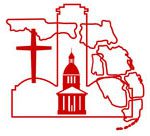 Catholics from around the state will gather in Tallahassee for Catholic Days at the Capitol, March 25-26, 2014.
During two days of activities, participants attend a legislative briefing on human life and dignity issues prior to meeting with elected officials in their Capitol offices. The schedule includes a luncheon for participants, the bishops of Florida and state legislators.
Catholic Days participants are also invited to the annual Red Mass of the Holy Spirit con-celebrated by the bishops of Florida. Attended by state officials, lawmakers, judges, members of the legal profession and the community, the Red Mass is celebrated to pray for those working in the executive, legislative and judicial branches of government.
Pre-registration is required.
Click here to find your diocesan coordinator and to access registration forms.
201 West Park Avenue Tallahassee, FL 32301-7715
phone: (850) 205-6820
fax: (850) 205-6849
email: info@flaccb.org
Visit our website