Enrollment at 235 Catholic elementary and secondary schools in the Sunshine State has grown to 84,750, an increase of 0.6 percent from the previous school year. Enrollment increased to 84,258 in the 2012-2013 school year which was the first upward spike since the 2006-2007 school year (and decades of steady growth experienced up until then). This growth was a 2.6 percent increase from the previous school year.
"We are optimistic in light of this two-year growth in our Catholic school enrollment," said James Herzog, Associate Director for Education, Florida Conference of Catholic Bishops (FCCB). "At the state policy level, work remains to be done to shore up crucial school choice programs which have proven so helpful to our school families."
Two state scholarship programs have shown growth in our Catholic schools from the fall of 2011 to the present. These include the Florida Tax Credit (FTC) Program for students from low-income families and the McKay Scholarship Program for Students with Disabilities. The number of students in the FTC Program increased by 46 percent in 2012 and an additional 23 percent in the fall of 2013. The number of students in the McKay Scholarship Program increased by 7 percent in 2012 and another 12 percent in 2013.
The statewide enrollment increases mark a hopeful sign for Catholic schools in Florida. This enrollment increase along with other positive developments in Catholic education will be heralded as part of a weeklong celebration to recognize the value Catholic education provides to young people and its contributions to our church, communities and nation.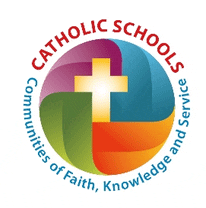 In particular, National Catholic Schools Week 2014 will be held January 26 – February 1. The theme is "Catholic Schools: Communities of Faith, Knowledge and Service." The annual Catholic Schools Week celebration is a joint project of the National Catholic Educational Association (NCEA) and the United States Conference of Catholic Bishops (USCCB). This year marks the 40th anniversary of the week, established in 1974 to recognize Catholic education as a great gift to the Church and the nation. Catholic schools typically celebrate the annual observance with Masses, open houses, and other activities for students, families, parishioners, and the community at large.