Not even a broken down bus could stop students from St. Joseph's school in Winter Haven from joining with nearly 600 other sixth graders at Focus 11 on March 2nd at Holy Family in Orlando. These diocesan middle schoolers were treated to inspirational talks by seminarians and priests, lively and engaging music, and other fun-filled activities meant to bring awareness to various vocations in the Church. Father Miguel Gonzalez, pastor of St. John Vianney in Orlando, acting as keynote speaker, gave an invitation to the young people saying, "Pray and ask God what His will is for your vocations, ask what does God want me to do and how he wants me to share my gifts and talents."
Father Gonzalez shared his journey from well-known DJ on a popular radio station to priest. As a DJ, Father Gonzalez reached a large audience of people on their morning commute. One morning, a caller asked him over the radio to visit her relative in the hospital. Having been put on the spot, Father Gonzalez agreed. This reluctant encounter became a life changing experience that led him on the path to the priesthood.
"It's cool that someone can be ready and set for their lives and then realize that God wants them to do something else," said Sebastian Arnal of Good Shepherd in Orlando.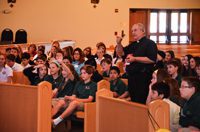 Panelists made up of priests, religious, married and single individuals offered their vocation stories both in person and by video. Sixth grader Gabby Goff from Our Savior in Cocoa Beach was impressed by the stories of the panelists saying, "We learned what they went through to get where they are now. They all seemed to go through tough times, but it was good to see how they got through it." In a video, Peter Dionne, Campus Minister at Bishop Moore reminded students to"Keep praying. Vocations are meant to bring wholeness and peace."
"Focus 11 is the result of a survey done by the USCCB a decade or so ago, showing that the mostly likely time to think about vocations for young people is at age 11 and in the 11th grade," explained Sister Kathleen Power SSJ, assistant director of Vocations. "Our goal is to help young people become aware that they are specifically called by God. We bring the religious community together to answer questions."
A five day event, Focus 11 brings awareness of the richness of vocations available in the Church to over 1,000 young people in the diocese each year including high school youth groups, young adults, middle school students, and high school students. Highlighting the diversity of ministry opportunities in the religious life, students interacted with religious men and women who are serving in various areas including the arts, working with children with disabilities, and traveling as missionaries to other countries. In one activity, students enjoyed matching the poster with a job written on it to the priest or nun that used to do that particular job, like pizza deliverer or jewelry clerk, showing that they had regular lives before their calling.
Nunez, an 11th grader from St. James Cathedral's youth group dreams of being a doctor one day but also wants to do missionary work. She spoke with a religious sister at Focus 11 who helped her see how both those dreams could be a reality.
"You learn a lot by being here, by meeting the different religious. You get to learn their story and they kind of surprise you because you wouldn't think that a nun or a priest would live the type of life that they did before," said Nunez. "It's eye-opening because you think, 'Maybe I can do that too. Maybe I can be that close to God.'"
"We are planting seeds," says diocesan director of Vocations Father Jorge Torres. "We know that most will be called to Holy Matrimony, however someone may ask a question, maybe a friend or neighbor, and they will know where to send them; where vocations are nurtured."