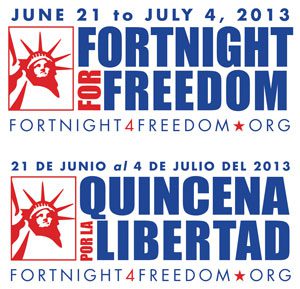 Stand Together for Religious Liberty "Fortnight for Freedom" to be Observed Throughout the Nation Beginning Today – Friday June 21 The United States Conference of Catholic Bishops (USCCB) has called for a second Fortnight for Freedom that begins on June 21, the vigil of the Feasts of St. Thomas More and St. John Fisher, and ends with Independence Day on July 4. The first Fortnight took place during the same dates last year as an effort to educate the public about religious liberty, both at home and abroad. Recognizing that we still face threats to religious liberty, the U.S. Bishops are promoting this two-week period of prayer and reflection upon the freedom of religion that we possess in our great nation.
As we observe the Fortnight for Freedom this year, we still face many challenges to religious liberty including: • The August 1, 2013 deadline for religious organizations to comply with the U.S. Health and Human Services mandate; • Supreme Court rulings that could attempt to redefine marriage in June; and • Religious liberty concerns in areas such as immigration and humanitarian services. Through prayer, study, and public action during the Fortnight for Freedom, together we can promote the importance of preserving the fundamental right of religious freedom, for now and the future, for Catholics and for those of all faiths.
Special National Masses Planned for Fortnight for Freedom: A Mass to open the Fortnight for Freedom will be offered on Friday, June 21 at 7:00 p.m. at the Basilica of the National Shrine of the Assumption of the Blessed Virgin Mary in Baltimore, Maryland, celebrated by Archbishop William Lori of Baltimore, Chairman of the USCCB's Ad Hoc Committee for Religious Liberty. Similarly, a Mass to close the Fortnight will be offered on Thursday, July 4 at 12:00 p.m. at the Basilica of the National Shrine of the Immaculate Conception in Washington, D.C, celebrated by Cardinal Donald Wuerl of the Archdiocese of Washington.
The Masses will be televised nationwide on the EWTN cable network. Check the EWTN Channel Finder web page to find local channels for EWTN.
For further information and resources on the Fortnight for Freedom, please visit the USCCB website at www.Fortnight4freedom.org.