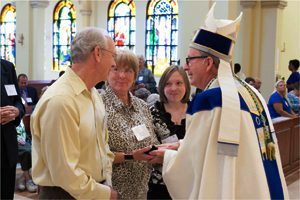 Parishioners at St. James Cathedral for more than 30 years, Mary Jane and Francis Sevick have acted as stewards of the Church in many ways – as educators, catechists, lectors, ministers of the sick and extraordinary ministers of holy Eucharist. (photo: Bishop Noonan greets parishoners)
"We are very committed to what is going on in the diocese and our parish," Francis Sevick said. "We've seen a lot of growth during our time at St. James Cathedral. We have a strong commitment to the poor and education."
But the Sevicks also give of themselves in other ways, too.
"We are not only to give of our time and talent, but we also have an obligation to help as much as we can in other ways too," Mary Jane Sevick said. "Giving financially is important. I don't think it has to do with amounts of money that we give; it has to do with giving whatever you can back to your Church. Everything comes from God and goes back to God, so it's important that we help our fellow Catholics and everybody in the community who needs it."
The Sevicks were among 27 new inductees to the Vivos Christi Society during a Mass and induction ceremony held on Sept. 8 – the Nativity of the Blessed Virgin Mary – at St. James Cathedral. The society – sponsored by the Catholic Foundation of Central Florida – was created for persons or families who have made a provision for the Church in their wills or other estate plans.
Bishop John Noonan, who celebrated the Mass, said the day was one to celebrate Mary's birth as well as "the life of Christ in our lives."
"We celebrate the living Christ, the Christ that Mary brought into the world," Bishop Noonan said. "In our prayer here, we too proclaim the greatness of the Lord and what he has done. You have shared with those in need and shared with those less fortunate, and your generosity has given others the opportunity to encounter Christ too in their lives."
During Mass, Bishop Noonan presented each inductee with a medallion and a special lapel pin. Inductees also received a yellow rose and prayer card in honor of St. Therese of Lisieux, patroness of the Vivos Christi Society.
The Sevicks have pledged to contribute part of their estates to St. James Cathedral in their will. Mary Jane Sevick said she hopes their gifts will help current and future parishioners build their relationship with Jesus, specifically through education and new technologies.
Stephen Gauthier, along with his wife Holly and daughter Eva, accepted the medallion and lapel pin on behalf of his mother, Betty Gauthier, who was inducted into the society posthumously. Stephen Gauthier said his mother, a member of Most Precious Blood Parish in Oviedo, was a dedicated Catholic who enjoyed helping those in need. Her gift will go toward the cost of the parish family life center and a new crucifix.
"She gave to so many different organizations," said Stephen Gauthier, also a member of Most Precious Blood. "She felt she had so much, and she wanted to be able to pay it forward. She had such a passion for the Catholic Church. If there were fundraising events going on, she wanted to be a part of it. It was important for her to give throughout her life."
In the past two years, 50 estate gifts totaling more than $5.2 million have blessed the work of the parishes, schools and ministries in the Diocese of Orlando.
"It is with gratitude that we celebrate you, our Vivos Christi Society members, for making this work possible," said Meghan Post, chief administrative officer and vice president of development for the Catholic Foundation of Central Florida.
"Like those who supported the early Church, you did not ask for or seek recognition. So we thank you, not only for your generosity, but also for your willingness to accept our gratitude with humility. Yours is truly a lasting legacy which will strengthen our Church and its ministries."