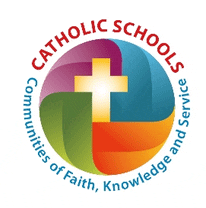 Click here to watch a video about Catholic Schools and the Distinguished Catholic School Educator Awards.
Four educators in the Diocese of Orlando have earned accolades for their professionalism and dedication to excellence in the area of Catholic education. These educators see each student as a gift of God and model a life of faith, excellence and service. They were honored today by Bishop John Noonan, January 24, at an awards luncheon celebrating the school system's best. Catholic Schools Week begins on January 16 with the theme, "Faith, Knowledge and Service."
Congratulations to the Award Recipients and Finalists
Bishop John Noonan Distinguished Administrator Award:
Finalists: Geraldine Gendall, Principal of St. James Cathedral School, Orlando and Kathleen Walsh, Principal of St. Margaret Mary Catholic School, Winter Park.
Winner: Dr. Kathleen Kiley, Principal of St. Andrew Catholic School, Orlando
Distinguished High School Teacher Award
Finalists: Mary Byrnes, Melbourne Central Catholic High School and Leyzia Maisonave, Santa Fe Catholic High School, Lakeland
Winner: Vince Balaguer, Bishop Moore Catholic High School, Orlando
Distinguished Elementary School Teacher Award
Finalists: Beth Hamby, Holy Name of Jesus Catholic School, Indiatlantic, and Carol Polkowski, St. Joseph Catholic School, Winter Haven
Winner: Barbara Havens, Sacred Heart Catholic School, New Smyrna Beach
Diocese of Orlando Elizabeth Seton Award (for new teachers):
Finalists: Jena Love, St. Joseph Catholic School, Winter Haven, Amanda Sarasua, Father Lopez Catholic High School
Winner: Jennifer Jones, Resurrection Catholic School