Taking their place in line for the graduation ceremonies at their respective high schools, four students realized a dream that some would say seemed impossible.
Scarlyn Maria De Los Santos Nova and Alfredo Victoriano Vicente, graduates of Father Lopez Catholic High School in Daytona Beach (pictured left), and Wendis Pinales Luciano and Johan Pinales, graduates of Trinity Catholic High School in Ocala (pictured right), are from an extremely poor region of the Dominican Republic. They left behind friends and family to attend Catholic high schools in the Diocese of Orlando on a scholarship that has changed their lives and will impact their communities back home for years to come.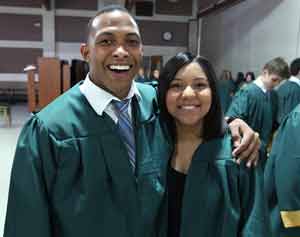 Before arriving in Central Florida they attended a school operated by the Diocese of Orlando Mission Office in the mountainous and remote region of our sister diocese in San Juan de la Maguna.
The school opened in 2002 to teach children in the fringes of society. In an area where there was no electricity, no indoor plumbing and no paved roads, the school also brought hope to the people, because now their children would have opportunities never afforded to them through education.
"Graduating from high school represents for them recognition of who they are and the potential they have for doing good for their communities and the world at large," said Ursuline Sister Bernadette Mackay, director of the Office of Missions in the Diocese of Orlando.
Sister Mackay said these four students were selected because of their performance in school and the potential seen in them in the Dominican Republic. They are the second group of students from the Dominican Republic to graduate from a Diocese of Orlando Catholic high school. Luis Jose Aybar De Los and Blander Brioso graduated from Bishop Moore Catholic School in Orlando last year.
Sister Mackay said all four have bright futures ahead of them. De Los Santos Nova has earned a full-ride scholarship to St. Thomas University in Miami Gardens, where she will study biology in preparation for medical school to become a doctor. Victoriano will attend Daytona State College where he plans to study hospitality management. While Luciano has yet to select a college, she also plans on entering the medical field, and Pinales plans to attend the College of Central Florida in Ocala, where he will study computers.
"In her speech, the valedictorian at Father Lopez said, 'Be amazing,' and I thought these kids are amazing," said Sister Mackay. "My dream for them would be that they continue to dream outside of the box, be attentive to all those around them, and to love insistently as they have done; therefore, be amazing."