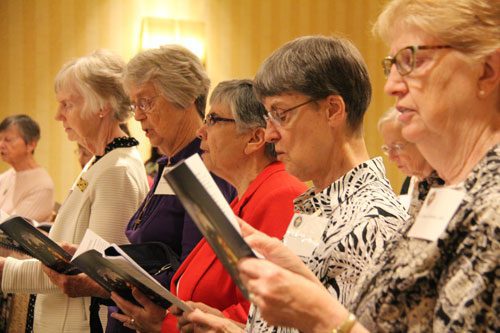 Four religious sisters celebrating 60 and 50 year jubilee anniversaries were honored by Bishop John Noonan at the Sisters' Jubilee Mass on Nov. 19.  Working in ministries spanning education, pastoral care, annulments, and social justice, the Diocese of Orlando is grateful for their untiring service to the people of God. 
Diamond Jubiliarians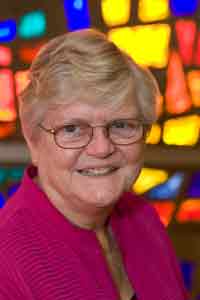 Dominican Sister of Adrian Michigan Ann Englert
Dominican Sister of Adrian Michigan Ann Englert was born in Glendale, New York, and is the youngest of three children. She played with the idea of entering religious life from grade school and throughout young adulthood.  "I was in Catholic schools where they talked about it all the time," she said.  She entered the convent on Feb. 2, 1956, and is celebrating 60 years as a religious this year. "Religious life has been wonderful to me and I would do it again in a heartbeat."
Sister Englert earned a bachelor's degree from Barry College in Miami and a Master's degree from Marquette University in Milwaukee. She started her teaching career at St. Rose of Lima in Miami. She went on to teach in St. Petersburg, Jacksonville, Tampa and Rome, Georgia.
"I was a math teacher but we taught everything along the way," she said.  She took a one-year sabbatical and majored in Theology at Catholic University in Washington, DC.  Sister Englert left the classroom to provide pastoral care for the sick and elderly at Our Lady of Lourdes Parish in Melbourne. After that assignment she spent 20 years at Nativity Parish in Longwood as a pastoral assistant, responsible for education and visitation services at the parish. "They still call me when someone has died," she said.  "The main thing I did was care. People don't say it they sense it," the 79-year-old said about her experiences of providing pastoral care to those needing spiritual comfort during challenging times in their lives.
Prior to her retirement she was the Regional Marriage Annulment Advocate in the Diocese of Orlando for Seminole and Volusia counties, and volunteered as an annulment advocate at St. John the Evangelist in Viera.
Sister Englert has some words of advice for those contemplating a vocation. "Pray about it," she said. "I think a young person contemplating a vocation needs to pray and listen. If they can hear what God is saying to them they'll sense it in their heart."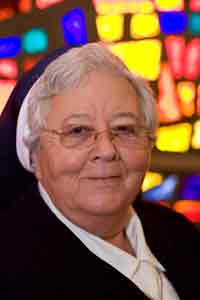 Sister of Mercy Immaculata Knox
Sister Immaculata Knox spent 42 years with her feet firmly planted in a kindergarten classroom.  But that didn't stop the self-described happiest nun alive from skydiving at the age of 60 or applying to be a teacher in space in 1986.
"I'm having a blast," the 81-year-old said as she celebrates 60 years in her vocation. "Every day is a new adventure."
Sister Knox was born in Bangor, a town in County Down in Northern Ireland. She is one of nine children, and has a twin sister.  She was educated by the Sisters of Mercy and said the seeds of her vocation were sown by them. "They looked like happy people. I saw their works and admired them for being happy and outgoing."
Sister Knox entered the Convent of Mercy Ardee in County Louth in the Diocese of Heharmagh in 1953. After her final profession of vows she came to Eau Gallie – what is now called Melbourne – to open Ascension Catholic School.  She's been there ever since.
"My years teaching in kindergarten I was able to tend to the precious blooms in God's garden. In little children you see the face of God very vividly. For the most part they are just so innocent and beautiful," she said.
After she retired from the classroom in 2006, she was 'recycled' and began a new ministry in pastoral care at Ascension. She visits patients in hospitals and nursing homes, and those who are homebound.
"Part of the ministry is to follow up on patients who leave the hospital and arrange for spiritual help when they come home. I also make people who are caretakers aware of local resources if they need them."
A good listener, she counsels the bereaved, and tries to help in any way possible.
"Everything that I have done is for the glory and honor of God and the parish of Ascension," she said.        
Golden Jubilarians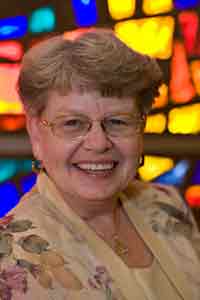 Sister of Divine Providence Linda Gaupin
Sr. Linda Gaupin, CDP, came to the Diocese of Orlando at the invitation of Bishop Norbert M. Dorsey, CP, in 1994 to serve as the Diocesan Director of Religious Education. She hit the ground running in her new position, and the 68-year-old says she's been running ever since.
Celebrating 50 years as a religious, she is currently the Director of Liturgy at Blessed Sacrament in Clermont.
"I love the work. I love working to make the Liturgy beautiful and sacred. I also love working with the Liturgical ministers and meeting the parishioners," she said.
Sister Gaupin didn't have what she described as a 'vocation moment,' but a desire to serve the church from grade school through young adulthood. "I think it evolved over time," she said.
She has served as the Chairperson of the Theology Department at La Roche College Pittsburgh; Director of Worship for the Diocese of Wilmington; and the Associate Director of the Secretariat for the Liturgy for the United States Conference of Catholic Bishops.
With degrees in systematic theology, liturgy, and catechesis, Sister Gaupin is a noted author and speaker on the topics of liturgy, catechesis and sacramental catechesis. She is the author of the new sacramental program "Embracing the Vision: Sacramental Catechesis for First Reconciliation and First Communion".
She speaks about the rewards of her vocation. "I think being able to really serve the Church in a way that I can give myself totally to it on a full time basis has been very rewarding. Community life with the sisters I have known and grow up with has been very rewarding. Working with parishioners is always rewarding. I have a good life."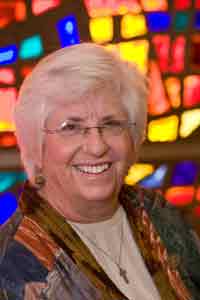 Sister of Notre Dame de Namur Ann Kendrick                                             
Sister of Notre Dame de Namur Ann Kendrick, a self-described child of the 60s and public school girl, was introduced to the Sisters of Notre Dame de Namur at Trinity College. She wanted to do sacred transformative work in the world. She wanted to participate somehow in making a difference from a place of faith.  As she celebrates 50 years as a religious this year she says, "I love the gift of life. God is good.  I live every day to the fullest, that's my motto."
Sister Kendrick and three other nuns from her order, came to Apopka, Florida, in 1971 at the invitation of Bishop William D. Borders. The group was charged with starting pastoral care to agricultural workers. The Syracuse, New York native thought she'd stay a year or two to help get the group off the ground, and then go back to the northeast, her comfort zone.
Turns out her comfort zone expanded exponentially.
Sister Kendrick stayed on, and 45 years later continues challenging poverty, racism, poor health outcomes and social injustices in the immigrant and migrant farm worker communities she serves.
"Farm worker people have a beautiful spirit. I love them and how I am when I am with them. Where I really learned to have a calling about living out a Christian life has been in this community."
Work in which Sister Kendrick has been involved includes but is not limited to creating the Office of Farm Workers Ministry, directing a team of 21 Notre Dame Americorps Volunteers and 12 community volunteers, establishing the West Orange Farmworker Health Clinic, Homes in Partnership, the Justice and Peace Office, the Farmworker Association of Florida, and Famillas en Poder (Families for Power), a collaborative effort with the Center for Drug Free Living in Orlando. She also was instrumental in creating the Hope CommUnity Center.
"I have no regrets," the 72-year-old says about celebrating 50 years as a religious. "Life is about social justice, standing with the poor people. If we really understood the Gospel this world would be a better place."