Missionary Priest Finds Hope Among Despair
I made a 5-day visit to Haiti, January 11-15, with Dr. Jean René who is currently assigned to the public health clinic in Los Montacitos. He is Haitian. He is here in our mountains to complete a one-year internship, which ends in February. He has done his medical studies here in the Dominican Republic. It was a perfect opportunity for me to "know" Haiti a bit more personally. Jean René is a man of great faith, intelligence and heart. Our journey together could give a whole new slant to those who begin with the line: "Have you heard the one about the priest and the doctor?" Here are a few highlights from the visit:
The motorcycle ride: I couldn't believe I was on the back of that motorcycle racing so fast along that terrible road. At times I just closed my eyes and accepted where I was and that there was nothing I could do about it. I would hardly move, with Jean René (the doctor) in between me and the driver, Francis. I stretched my arms around him and held onto the sides of Francis. The dust was everywhere. The stretch of road after crossing from the DR into Haiti is a dirt and rock road. There is no other transport except by motorcycle. This is how I spent my first hours and my last hours in Haiti.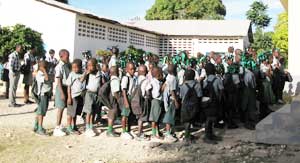 The parish priest: We stayed with a former professor of Jean René's, Père Mérès G. Esterlin, a priest of the diocese of Hinche. He is pastor of a parish in a very rural and poor area, consisting of 3 districts/chapels. He is 17 years ordained. The parish has a school that opened 5 years ago and offers grades 1 thru 6 with 110 students. He has begun with the school to create an entirely new population of people, a new mind and a new heart. But, he is alone and is tired. The diocese expects his financial support of it while he worries about making end of the month salaries for his teachers. He wishes he could find a group of religious women to help him run the school and reinforce the parish identity. He is totally refreshing. Literature was his area of teaching. I asked him what his favorite book was: The Old Man and the Sea (Ernest Hemingway).
The anniversary: My second day in Haiti was January 12, the third anniversary of the earthquake. Jean René and I participated in the celebration of Mass at Mérès' parish – a 6 a.m. Mass. It seems that everyone in Haiti was touched very personally by the earthquake. Mérès lost his sister, a nephew and a seminary classmate in the earthquake.
The Little Sisters of the Incarnation: This is a relatively new congregation (1976) of women religious in Hinche, after the charism of Charles de Foucauld. We had some time to visit with them and learn about their ministry. One of their ministries is to identify with the people. They do this, certainly by their services, but also by what they wear. They designed a "habit" based on the material and design of the peasants of Haiti. They don't wear the traditional white, which dirties so easily…unless you don't "work". They wear what the folks on the street wear. It is a decision not lost on the folks they serve.
The water faucet: Every so many feet along the road are public water faucets that function 24 hours a day, 7 days a week. It is a beautifully constructed concrete wall and slab, with a catchment area beneath the faucet. The water comes out with great force. Folks come from the various paths carrying their buckets (one little boy came with an old wheelchair pushing the bucket that he would soon fill); obviously this was one of the most common "chores" of the children as there were always lots there, washing their buckets before filling them. Many adults would come, as well. It made for great social time. People would visit and chat, fill their buckets then return home. Jean René and I spent a lot of time hanging around the faucet nearest the church. We met a lot of people.
Editor's note: Father Fred Ruse is a Diocese of Orlando priest assigned to serve in the Dominican Republic as a pastoral minister to the communities in our rural sister diocese, San Juan de la Maguana.