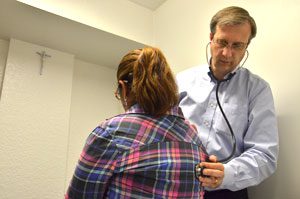 Two hours before the clinic is scheduled to open, a line begins to form outside the St. Thomas Aquinas Free Medical Clinic in St. Cloud. The clinic, a program of Catholic Charities of Central Florida, is the only place many of these patients can receive help.
"I wouldn't have anywhere else to go without St. Thomas" says Earnestine Taylor, one of the early arrivals who has been a patient at the clinic since it opened in 2008. "The people here are so caring."
Before long the doors are opened and soon the clinic is bustling with a team of smiling volunteers escorting patients, helping with intake and eligibility forms, translating for the doctors, and offering comforting reassurance to the full waiting room. As names are called out, medical students take the patients' blood pressure and temperature before bringing them to one of three exam rooms where they are seen by a volunteer physician.
"We are bringing Christ's healing to those who need it most." says Dr. Peter Morrow, volunteer medical director. After working in his own primary care office all day, he gladly gives up his evening to care for the people seeking help at the clinic saying, "This is an opportunity to practice medicine the way it is supposed to be practiced."
The dedicated volunteers, compassionate service, and grateful patients are not unique to St. Thomas Aquinas Free Medical Clinic. A similar arrangement can be found each week at two other free medical clinics operated by Catholic Charities of Central Florida in collaboration with many local parishes. The Lazarus Free Medical Clinic serves a largely migrant worker population in Wildwood from the ground floor of San Pedro de Jesus Maldonado Mission while the St. Luke Free Medical and Dental Clinic provides services in Eustis in partnership with St. Mary of the Lakes Catholic Church, St. Patrick Catholic Church, and surrounding parishes. Together the clinics offered quality medical care at over 3,100 patient visits in the last year, providing primary and urgent care and serving as a medical home for an underserved population.
At 25%, Florida has the second highest rate of uninsured residents in the nation. Many of these families are among the working poor, where a medical crisis can be devastating to an already tight budget.
"This is truly a lifesaving ministry' says Karen Beary-Croson, vice president of Catholic Charities of Central Florida and director of health services. "Lives are literally saved every week. The pastors saw the need of the people firsthand and, together with Catholic Charities, have created life changing healthcare ministry for people with no other options."
Beary-Croson notes that the clinics have been a parish and community supported initiative from the very beginning, and believes it that kind of grassroots support that will ensure the success of the clinics in the future. She invites everyone to get involved either by volunteering, donating medical and dental supplies, attending one of the clinic fundraisers, or making a donation by visiting www.cflcc.org.