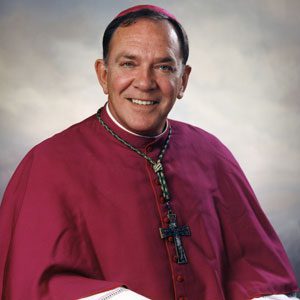 Bishop Norbert Dorsey, C.P. died in Orlando on Thursday, February 21, 2013 at the age of 83 after a long battle with cancer.
Bishop Norbert Dorsey, C.P. was installed as the third bishop of Orlando on May 25, 1990. During his episcopacy, the Diocese grew from 235,000 to almost 400,000 Catholics He served the people of God as a humble and loving servant. His motto was "Love is Ingenious" and he lived that motto in the way he modeled the love of Jesus Christ to everyone he met. He established 4 parishes, 1 mission and 6 schools during his tenure. Before being appointed as the Ordinary of the Diocese of Orlando, Bishop Dorsey served as auxiliary bishop in the Archdiocese of Miami from 1986 – 1990. Prior to his ordination as a bishop, he served as a priest for the Passionist religious order. He was elected Assistant General of the Passionists worldwide, and was based in Rome. He shared the life and experience of the Church in five continents during his periodic "Visitations" to most of the 52 countries where the Passionists are established. In 2004, he retired to a quiet life of prayer.
Funeral Arrangements for Bishop Dorsey are as follows:
Wednesday, February 27, 2013
Reception of the body of Bishop Norbert Dorsey will be on February 27 at St. James Cathedral, 215 North Orange Avenue, Orlando immediately following the 12:10 p.m. Mass at which time the public will be invited for viewing, visitation and last respects. Prayer services will be held at 3:00 p.m. and 5:00 p.m. The Vigil will begin at 7:00 p.m. with Evening Prayer followed by personal reflections.
Thursday, February 28, 2013
The Funeral Mass will be celebrated at the Basilica of the National Shrine of Mary, Queen of the Universe, 8300 Vineland Avenue, Orlando on February 28 at 11:00 a.m.
Additional Information:
Interment will be at the Gate of Heaven Cemetery in Springfield, Massachusetts on Friday, March 1.
Donations:
In lieu of flowers, Bishop Dorsey asked that contributions be made to the Passionist Community Support Fund, Passionist Pastoral Center 111 South Ridge Street, Suite 300, Rye Brook, NY. 10573 or Bishop Dorsey Colloquium on Priestly Life and Ministry, Diocese of Orlando, P.O. Box 4905, Orlando, Florida 32802-4905.