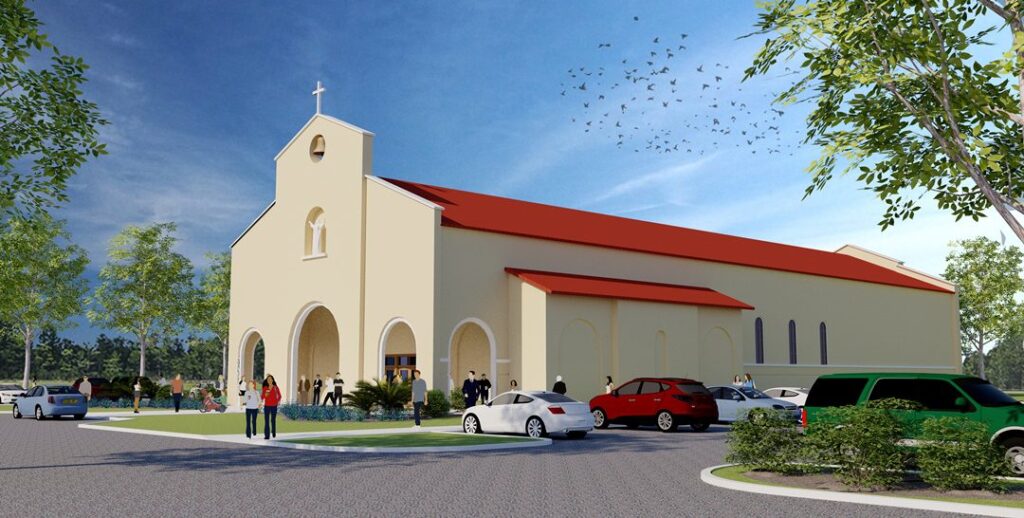 by Glenda Meekins
Almost 200 parishioners gathered August 13, singing "All Are Welcome" in the sun-bathed field that will soon be the new home for St. Rose of Lima Parish in Kissimmee. Bishop John Noonan blessed the ground where construction is set to begin thanks to the Alive in Christ campaign.
St. Rose of Lima began as a mission under the auspices of St. Ann Parish in Haines City in 1993. Bishop Norbert Dorsey announced the mission in response to the growing Hispanic population of the area. By 1995 it was officially established as a parish in its own right.
The parish, now located in a crowded neighborhood, is once again growing to meet the needs of its community. Father Tim LaBo was appointed two years ago as parochial administrator for the parish with the mission to get the new sanctuary built.
Father LaBo said, "We wanted to get everything on the same campus; build a larger church; build community structures such as social halls and a center for pastoral care." The current sanctuary cannot be expanded due to its location and parking is difficult.
St. Rose of Lima's new home is approximately 15 minutes from the original parish. "The parish will grow tremendously once the church is built and people see that all the structures are coming together in one place," said Father LaBo. "People will also be able to see the church from the road. Many people do not know where the current church is or that it even exists. When it becomes more visible here, I think it will become a growth phase for the church and the parish itself. I think that the community at large will see that we have a church to serve."
Bishop Noonan, clad in a straw hat and sunglasses for the outdoor blessing, affirmed Father LaBo's words as he quoted from Psalm 127, "If the Lord does not build the house, in vain do its builders labor." He added, "Whenever we look to the interests of our neighbor or the community and serve them, we are, in a sense, God's own co-workers."
Situated on 33 acres, the new 12,834 square foot sanctuary will accommodate 650 people, 200 more than the current space. It is scheduled to be complete by August 2017. The original building has been sold to a charter school and the parish is leasing the space until the new home is built.
This is the first phase of the parish's planned expansion. They hope to add a hall and meeting rooms in Phase 2, and eventually increase the sanctuary capacity to 1,100 people. The property has an office which is already operational and a food pantry that shares space with other ministries.
Parishioners carried umbrellas to shield them from the heat and sang to the tune of a guitar and organ with their voices ringing out in joy over portable speakers. Past and present priests and deacons shared in the celebration.
Fernando Valverde, a parishioner for 12 years, was happy to be a part of it all. "I think it means a great deal for the entire community. This is the only Catholic church in the area and it's a miracle. I think it is in great part due to Bishop Noonan. He said, 'Do it.'" Valverde added, "But really, it depended on St. Rose of Lima. As she was known to say, it's not for her; it's for all the people who need it – multilingual, multicultural, at all levels of Christianity. So it is a gigantic step for our faith."