DIOCESE OF ORLANDO – Flooded with news of an ever-spreading virus, city after city is issuing stay-at-home mandates and millions of people are working from home, assisting their children with virtual school and finding ways to avoid cabin fever. The Diocese of Orlando is not untouched by the crisis. In a letter to healthcare professionals, Bishop John Noonan wrote, "The courage and dedication of you, our 'saints', brings forth God's peace upon all of us." He asked the roughly 400,000 registered Catholics in the diocese to pray for them. These extraordinary times hastened opportunities for ordinary holiness among God's people – revealing 'saints' in the making – a Church united in the desire to be "our brother's keeper".
MASKS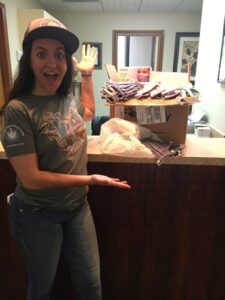 WINTER SPRINGS | When Father John Bluett, pastor of St. Stephen Parish in Winter Springs got a call from Seminole County Medical Director Dr. Todd Husty, he took it seriously. Father Bluett remembers the call vividly. "We have a desperate situation in Seminole County. Can you help us?" asked Dr. Husty. The veteran priest hung up and promptly sent out more than 200 emails requesting ministry leaders to put the word out that masks were needed to better serve patients and protect healthcare workers. Diana McGinty received one of those emails and got to work.
Within 48 hours, McGinty had 20 Blessed Sacrament Associates (a secular order she belongs to) commit to putting masks together. Some donated fabric, while others cut, and more sewed. Becki Long coordinated pick-up and distribution of supplies. As word spread to Diocese of Orlando Council of Catholic Women president, Kathy Leigh, she also sounded the alarm. In two weeks, these "ordinary" people from 35 affiliations made more than 1,500 masks distributed to Seminole County medical personnel, Pathways to Care residents and staff, Catholic Charities of Central Florida, local area senior living facilities, nursing homes, rehabilitation facilities, and a local fire department. "We are continuing to sew masks and won't stop until there is no longer a need for these washable fabric masks," said McGinty with conviction.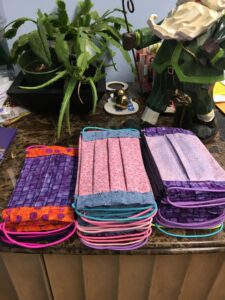 Father Bluett explained the masks are not necessarily for doctors and nurses, but for patients so they do not spread the virus. The priest is touched by the response, having received masks from parishes throughout the deaneries, including Annunciation Parish in Altamonte Springs, St. Francis of Assisi in Apopka and St. Mary's in Rockledge. "This is a great thing to do, especially when people are struggling and hurting," said the pastor. "People have gifts and talents and they're delighted to use them to help other people."
Parochial vicar and Blessed Sacrament priest, Father George Dunne, added, "As we face this crisis together, we are all asked to play our part for the greater good of the worldwide community of God's children." McGinty concurred. As she continually checks on her porch settee for masks that have been dropped off, she notes, "We are Eucharistic people. Because we can't celebrate Mass together in our beautiful sanctuary, this feeds us as we help others."
MEALS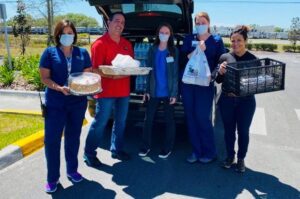 OCALA | When Florida restaurants were ordered to close March 17, except for pick-up and delivery services, Reina and Steve Mendez did not complain or bemoan their situation. The owners of La Hacienda Restaurant and Supermarket in Ocala sprang into action, serving free take-out meals to first responders, police, firefighters and EMTs. "We have all this food. I'd rather feed people than let it go to waste," Reina told her husband Steve. Word of mouth spread and that's when a business owner approached them. He said, "I know you're taking a loss, so I just wanted to do something." The anonymous donor gave them a check to use as they saw fit. Realizing those not coming in for food were the medical personnel, due to their long hours, the couple decided to cook meals and bring it to Ocala Regional Medical Center staff.
The lucky recipients ate chilis rellenos (stuffed Poblano peppers), burritos and sauce, rice, and beans. The authentic Mexican food was greatly appreciated. Nurse Sindi Martinez, whose daughters have gone to school with the Mendez children for years, shared the food with fellow nurses, cleaning staff and doctors. "It was very emotional for our team," said Martinez. "It's been very stressful … it made everyone's day." She said her Blessed Trinity and Trinity Catholic family have made a difference. "My faith carries me through. We know what we have to do. This is the career we chose – to heal and help people overcome their worst days. At the same time it's painful for us to watch people suffer." She said prayer throughout the day and with her patients, when they allow it, "keeps (her) sane."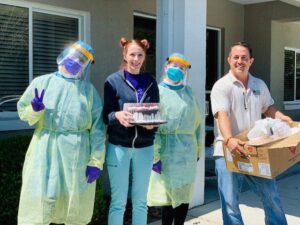 Since then, the couple has taken food to a nursing home and another hospital. "We're trying to do what we can," said Reina.
They have four children, two attend Trinity Catholic High School and another attends Blessed Trinity Catholic School, with a little one still at home. The children sometimes help with deliveries, but since COVID-19, their roles have changed. Their freshman daughter explained, "I have not helped out with any deliveries because I have been home helping with my 3-year-old sister and 13-year-old brother who has asthma. Although I usually help my parents at La Hacienda, it has been nice to help my siblings stay home and away from germs. Praying every night with my family has brought me closer to God, and I feel as though I'm helping the community by staying home, and I wish to encourage others to stay home as well."
Her father wakes up before dawn to stock the supermarket to keep the community going. "We're like family," explains Reina. She calls it her "Hacienda family" saying, "We all have to help each other." Raised in a devout Catholic family, she recalls her mother's words, "When you do something, do it with all your heart." That is the witness she and her husband offer their children daily.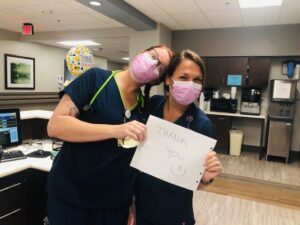 "My parents are some of the most hardworking people I know," said their eldest, a senior at Trinity Catholic. "They've taught me so much about life and how important it is to take care of others. By helping my parents, I'm able to help those in need, especially in this time. During quarantine, I've been restocking all the aisles to give essential products to those who need it. I've been waking up early in the morning to stay away from large crowds and during the day I watch my siblings so my parents can work. This helps me grow as a Christian because I have more time to see our blessings and have a close relationship with God," he said.
Thinking about all those in harm's way for the sake of others, Reina is reminded of Jesus words in Matt. 25:35, "For I was hungry, and you gave me food…" She smiled and said, "We need to practice it and we have the ability to do it, so why not do it with all your heart?"
GOGGLES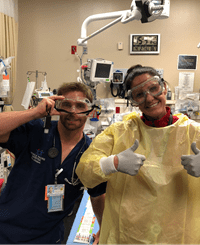 ORLANDO | On March 28th at 8:20 a.m., Tom Doyle, president of Bishop Moore Catholic School received a text from Orlando Commissioner Robert Stuart requesting goggles for medical workers. "We enthusiastically said, 'yes'," said Doyle. Reaching out to Principal Scott Brogan, the ball began to roll. Brogan mobilized science teacher Mary Grady, who quickly went to the school "scrounging" for goggles. She and her fellow science teachers gathered three bags, filled with a total of 80 goggles.
"We have goggles and gloves", Doyle told Dr. Carlos Sabogal, director of pediatric pulmonary at Arnold Palmer Medical Center, and father of five Bishop Moore students, two who already graduated. Grateful for the gift, he contacted another school parent and colleague, Dr. Jose Ramirez, at Arnold Palmer Hospital for Children's Orlando Health Emergency Department, to help with distribution. The ER doctor would later write Doyle and Grady saying, "The generosity of Bishop Moore Catholic High School in donating supplies as we are facing COVID is a testimony to your Mission of Service and Caring. The goggles you provided will be put to good use in our hospital system. It is truly humbling knowing the support and concern you have shown to us. As healthcare providers, it encourages us to live up to our commitment in being here for you, our community and patients."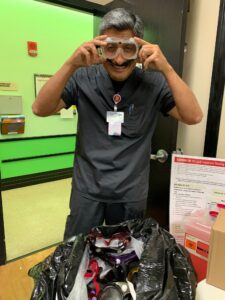 Dr. Sabogal called the bountiful kindness "our Catholic community in action—all for one… (asking) what can I do for others." He noted this happens when you "let God work and use you at full!" "It reminded me of St. James who said, "show me your faith without works, that through my works, I will show you my faith.' And this is what we need the most during this time of crisis, to help each other at many different levels."
When asked how his faith sustained him through this crisis, he responded without hesitation. "It is all— my engine, my refuge and my courage that overcomes worries, problems and fear to keep going, to continue working and helping through our vocation, as God calls all of us. These days, I remembered many times St. John Paul II when he said his first words as a Pope to the crowd in St. Peter's Square, 'Do not be afraid.' And then I say, 'I am here Lord – for what you need me."
By Glenda Meekins of the Florida Catholic April 15, 2020