ALTAMONTE SPRINGS | Inspired by Prov. 31:10-31, the annual Go Beyond women's conference unpacked the Scripture's message of a woman's value and worth. The theme "Worth More" attracted more than 125 women to participate in person, Nov. 7 at St. Mary Magdalen Parish in Altamonte Springs and via livestream throughout the Diocese of Orlando.
Speakers Lydia Britton, Liv Harrison, and facilitator Rachel Bulman shared their own faith journeys and sought to empower their peers to embrace their God-given vocations, inspiring a deeper relationship with Jesus Christ.
Olivia Anderson said it was refreshing to "escape from the pandemic" with her "sisters in Christ". Sitting in on the English presentation, speaker Liv Harrison's story of physical and spiritual transformation was uplifting in a year of disease and election tensions. "It was nice to be able to have a ray of hope, light," Anderson noted.
The morning invited reflection of significant people who impacted the journeys of those present. Anderson welcomed the reminders of those who inspired her: her mother, grandmother, and other female mentors who walked alongside her. "It was a reminder of the lives they have lived and to keep to the faith, walking in the path they have already trailblazed."
Anderson is confident in her vocation as a single woman. She said the morning was "an affirmation that as women – it doesn't matter what vocation you're in."
Having lost more than 300 pounds, Harrison spoke of the pressures of looking and behaving a certain way as a woman. Anderson agreed, but finds solace in faith. "It's good as Catholic women to be reminded that the final say about who we are, does not come from the culture. It comes from within, from God," she said.
Presenter Lydia Britton is director of religious education at St. Charles Borromeo Parish in Orlando. She acknowledged, "We often expose our beauty and strength in mistaken and misconstrued ways, allowing ourselves to be judged by the norms and definitions society places on the value of a woman. This is both dangerous and destructive."
St. Mary Magdalen parishioner, Katia Caban, participated in the Spanish presentation with Britton. She appreciated sharing with other women "the realization of the importance of our role – to be ourselves; to not have to compete with the rest of the world or other people's criteria." Caban noted, "The Lord also made us in His image and we each have a mission. With our unique selves, we support God's mission."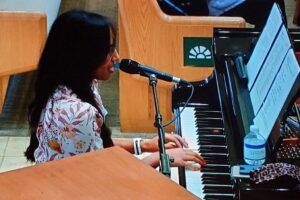 Britton shared her own story and spoke of the many roles women have as mothers, professionals, Christians, and children of God. Caban said, "She inspired us to search within ourselves to find those roles and avoid the pressure of conforming to the world's criteria and to focus on what the Lord wants of us." She also spoke of striking a balance.
Britton suggested following the example of the Blessed Mother who "accepted God's plan realizing that it was greater than any other plan she could have ever imagined for her life." She added, "It is only through Christ himself in the Eucharist that a woman can discover and discern the best version of who she is intended to be. Our value as women comes from knowing that we belong to the Creator and in Him alone can we come to know our true purpose and be a light for the world."
By Glenda Meekins of the Florida Catholic, November 12, 2020