By Jennifer Drow, special to the Florida Catholic – January 2, 2018
Editor's note: The family's last name was omitted to protect minor children
A school girl's mission to light up Puerto Rico has gone viral. Litza will be confirmed in the Catholic faith this February and right now she's laser-focused on being Christ to our brothers and sisters on the island.
The bold 8th grader from St. James Cathedral School, Orlando began Litza's Project for her Advent assignment. The idea started small. Litza used her allowance money to buy $12 inflatable solar lights to give to struggling families. She shipped 15 lights to her aunt in Puerto Rico to be distributed, but was sad to learn dozens of people were turned away when they quickly ran out.
More than 35 percent of the island remains without power nearly 3 months after Hurricane Maria. A devastating situation for 'la isla del encanto,' or 'the island of enchantment.' Litza knew she had to do more. "They lost power, but I didn't want them to lose hope," she explained. "I wanted to send something to remind them that God is always with them. I thought about the solar lights because they brighten the dark nights. I also sent "glow-in-the-dark" rosaries and a booklet on How to Pray the Rosary in Spanish as a reminder of our faith."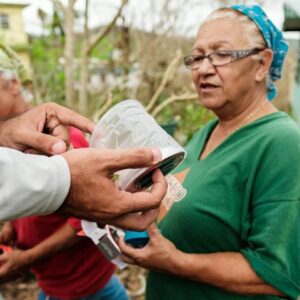 To date, Litza and her family have handed out more than 400 solar lights to families in need. Thanks in part to Father Miguel Gonzalez, Rector of St. James Cathedral. Father Gonzalez told the parish how they could help at the celebration of Mass on the Cathedral's 40th anniversary. "Litza's willingness to provide light to an island in the midst of darkness shows us the true light she offered to those living in Puerto Rico, actually flowed from her caring and compassionate heart," he shared.
Donations started pouring in and once the story hit social media, lights were shipped from all across the country. "I never expected the project would grow beyond our expectations," said Litza's mother. "We thought that the support would be limited to our friends, family, St. James Cathedral and our beloved St. James Cathedral School."
The gifts are quickly multiplying. In addition to lights, people have sent in blankets and tarps. Two families battling serious medical conditions were even given generators. Litza and her family also partnered with a non-profit to distribute more than 200 boxes of food, each with enough rations for 15 days. "I think that the project brought awareness to others beyond our community to open their hearts to help others in need during Christmas," said Litza. "I am grateful to people of other beliefs because they reached out to us to ask how they could help and they did!"
The team of volunteers in Puerto Rico now proudly wear Litza's Project t-shirts. Restaurant owners near the rural areas where donations are delivered are handing out water and snacks to the people waiting in line. All of this, fruit of Litza living out the mission of her Catholic school, "Come to Learn. Leave to Serve." She has attended St. James Cathedral School since she was 4 years old and hopes to have children one day who will be enrolled there as well.  Principal Dawn Helwig is thrilled. "We are so proud of Litza and all of her hard work and dedication," she said. "Hurricane Maria affected many lives and took away hope. Litza's project restored hope to Puerto Rico and brought the Light of Christ to those in need."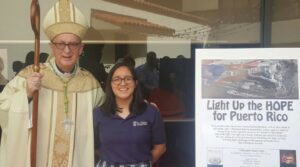 Now Litza has her sights set on the upcoming Sacrament. She explains her favorite saint is St. Anne because "she was Virgin Mary's mother." She soon hopes to join a volunteer group to help children with special needs. "Confirmation means accepting responsibility for your faith and destiny," said her mother. "I believe this project has prepared my daughter emotionally and spiritually to do what is right on her own, not for the recognition or reward, but simply because it is the right thing to do. This project will help to mature her soul for the community work ahead of her as a soldier of Christ."