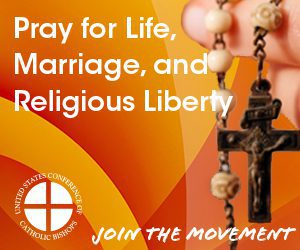 Thomas said to him, "Master, we do not know where you are going; how can we know the way?" Jesus said to him, "I am the way and the truth and the life. No one comes to the Father except through me."
John 14:5-6
An international gathering in Rome with Pope Francis on June 15 and 16 will focus on the Church's teachings on the sanctity of human life. This event coincides with the anniversary of Evangelium Vitae, (Latin for the Gospel of Life) which is the name of the encyclical written by Blessed John Paul II which expresses the position of the Catholic Church regarding the value and sacredness of human life.
Thousands will gather with the Holy Father in a communal witness to the sacred value of all life: The lives of the aged, the lives of the sick, the lives of the dying, the lives of the unborn, the lives of the physically and mentally challenged, and the lives of all those who suffer. The faithful in the Diocese of Orlando are encouraged to pray with the Holy Father that life will be valued and protected in all stages of development and in all circumstances.
Over the next 12 months, Bishop John Noonan will lead an educational initiative to help the faithful understand the teachings of the Catholic Church as they relate to the important issues of our time, such as issues of life, marriage and freedom. This initiative is called "The Way, The Truth and The Life" and will include catechetical materials such as videos, articles, pastoral letters and web content.
The materials will be provided to parishes and schools over the next few months and will hopefully be shared and viewed by all so that these important principles of our faith will be explained, understood and lived.