St. James Cathedral Friends of the Music Ministry (FOMM) Concert Series presents the male vocal group Chanticleer, Friday, January 25, 2013 at 8:00 pm. Chanticleer celebrates its 35th anniversary with The Siren's Call.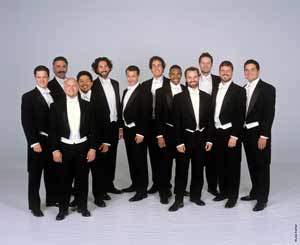 The multiple Grammy Award-winning all-male vocal ensemble is comprised of 12 singers hailing from across the U.S. Chanticleer's repertoire spans ten centuries from Gregorian chant, Renaissance polyphony and Romantic art song to contemporary music, jazz, spirituals and world music. Chanticleer gives approximately 100 concerts a year throughout the world, appearing regularly in New York, Boston, Los Angeles, Washington, DC, Chicago, and Internationally, as well as its home base of San Francisco.
"The singing of Chanticleer is breathtaking in its accuracy of intonation, purity of blend, variety of color and swagger of style." (The Boston Globe)
"Chanticleer fascinates and enthralls for much the same reason a fine chocolate or a Rolls Royce does: through luxurious perfection." (Los Angeles Times)
The irresistible songs of the sirens – sometimes fateful, sometimes fatal – fill Chanticleer's 35th anniversary program. Renowned Chinese composer Chen Yi sounds the call in her own inimitable language, and celebrated Irish composer Michael McGlynn channels the song of the spirits of the Blasket Sound. With these world premieres will be works by Bates, Vaughn Williams, Barber, Gesualdo, Corigliano and more.
Tickets for the concert range from $25.00 to $50.00. Ticket forms may be downloaded from the St. James Cathedral website at www.stjamesorlando.com or may be picked up at the Cathedral office. For more information, call the Music Department at 407-422-2005, ext. 106. St. James Cathedral is located at 215 N. Orange Avenue, Orlando, FL 32801. Free parking is available in the church lot at Orange and Robinson.