Contact: Michele M. Taylor, Associate Director for Communications, (850) 205-6817, mtaylor@flacathconf.org
H. Steven Hammond, Ph.D. assumes emergency management operations
for Florida Catholic Conference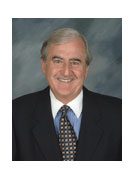 The Florida Catholic Conference welcomes H. Steven Hammond, Ph.D. as he assumes the role of emergency management operations consultant for the bishops of Florida. Hammond began his service with the Conference in July 2010 and works closely with the Catholic Charities offices in the seven Florida Dioceses to coordinate emergency preparedness, disaster response and crisis management activities.
Hammond has extensive experience in organization and leadership development, educational administration, project management and homeland security. For the past ten years, he has provided consulting services to numerous governmental, educational and corporate clients. In this capacity, he led and authored the Statewide Security Assessment of Florida Seaports for the Executive Office of the Governor, managed force modernization contracts for the Department of Defense, and contributed to emergency management planning for the Florida State University Center for Strategic Public Health Preparedness.
A graduate of the United States Military Academy at West Point, Hammond served as a commissioned officer in the U.S. Army, achieving the rank of Colonel. He culminated his federal service as Director of the Office of Leader Development at the United States Military Academy (West Point). He has earned four post-graduate degrees including a doctorate in organizational psychology and leadership from Columbia University in New York City.
Through development of plans, processes and mitigation strategies, Hammond will assist the Conference and Catholic Charities organizations to prepare for emergency contingencies. "We are pleased to have such an accomplished professional on board with us," states Mike McCarron, executive director. "Knowing that Steve's skills and expertise are available to us as we approach the height of the hurricane season provides a certain level of comfort."
Hammond's responsibilities also include serving as liaison to state agencies and various non-governmental and volunteer organizations that comprise the community of emergency management stakeholders.
---
The Florida Catholic Conference is an agency of the Catholic Bishops of Florida. It speaks for the Church in matters of public policy and serves as liaison to the executive, legislative and judicial branches of government. The archbishop and bishops of the seven (arch)dioceses in Florida constitute its board of directors.