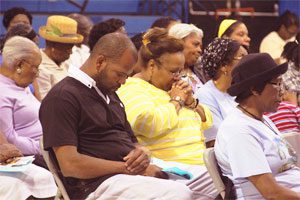 Guided by the biblical account of the Battle of Jericho, Haitians in the Diocese of Orlando embarked on a week-long journey of praise, worship, and prayer to break down the walls that keep them from God and to prepare their hearts for the Resurrection of Jesus Christ on Easter Sunday.
Aptly named "Jericho," the event opened March 9 at St. James Cathedral and continued for the next six evenings at St. Andrew Catholic Church. Now in its seventh year, Jericho also includes the celebration of Mass and presentations from speakers worldwide. The event attracts 300-400 people each evening.
"The purpose of Jericho is to have a better awareness or awakening of sin, to enter in to prayer during this Lenten Season, to identify the obstacles or barriers that keep us away or separate us from God and to heal our wounds," said Father Gaetan L. Boursiquot, director of the Haitian Ministry.
"We have this event in the Lenten season for people to pray not only about the situation that is in their way and makes them troubled every day, but also the need to put those walls down to meet with Jesus in the Resurrection," said Marie Delius of Our Lady of Fatima Mission and one of the event organizers.
She said many tell of the blessings they receive from participating in the event.
"We have a lot of witness of great things that happened after seven days of Jericho," Delius said. "I enjoy seeing people try hard to be here because they know they are going to get something from it. When people find spiritual rest, it makes me fulfilled."