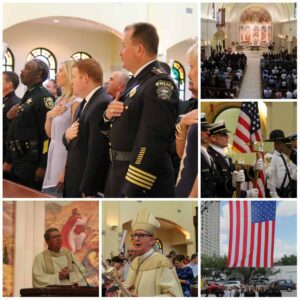 More than 1,000 people, including 600 students and 150 law enforcement officials participated in the 15th Annual Blue Mass today at St. James Cathedral in downtown Orlando.
The purpose of the Blue Mass is to pray for the safety of first responders, men and women in law enforcement, fire/rescue and public safety, who put their lives in harm's way for the good of our community. Deacon Paul Volkerson, a retired sheriff's deputy, delivered the homily.
Orlando Police SWAT Team, and K9 were positioned on the southwest corner of Robinson Street and Orange Avenue. Marked units from a number of different law enforcement agencies lined Orange Avenue and the Orlando and Orange County Fire Tower Trucks displayed the American flag on Robinson Street in front of St. James Cathedral.
The opening and closing procession of the Blue Mass included bagpipers of the Orlando Firefighters Pipes and Drums and Orange County Sheriff's Office Pipes and Drums and Presentation of the Colors were offered by a multi-agency Honor Guard. Police Officer Jennifer Williamson of the Orlando Police Department was the reader during the Mass.