"Jesus Christ is alive and He wants you to be alive. That is our message this evening," said Bishop John Noonan to the graduating seniors of five Catholic high schools during their baccalaureate Masses held the week of May 20 – 24. As the young men and women prepare to take the next step in their journey, the Masses were an opportunity to reflect on how Catholic education has formed them and prepared them for what lays ahead.
Regan B. and Margaret B. from Father Lopez High School in Daytona Beach thanked their teachers and coaches who helped them become well-rounded individuals. Both noted the lessons they received went far beyond the classroom, from "the importance of showing up every day ready to learn" and "how to try our best without fearing failure" to "calculus and life."
"We are going out into the world, and there are so many unknown variables… I know that Lopez has clearly prepared us for more than just attending college," said Regan.
Anna S. had a similar experience at Melbourne Central Catholic where she received not only an outstanding education, but was also shaped to be the person God is calling her to be.
"What makes a Catholic school stand apart from other schools is that it provides us with an inclusive, loving, and accepting culture where we can grow to become the people God made us to be," said Anna.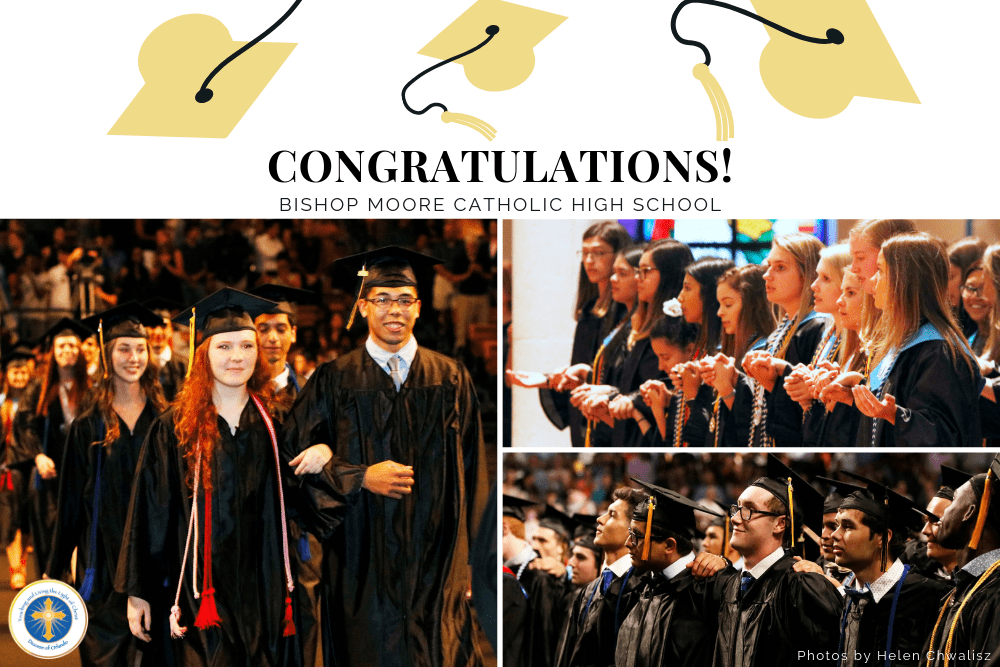 "I am thankful for my Catholic education as it has helped me to see this and be more attentive to all those ways in which God has been present in my life and in the lives of others… Today we are prepared to embark as a family, unified in Christ, ready to serve God and others."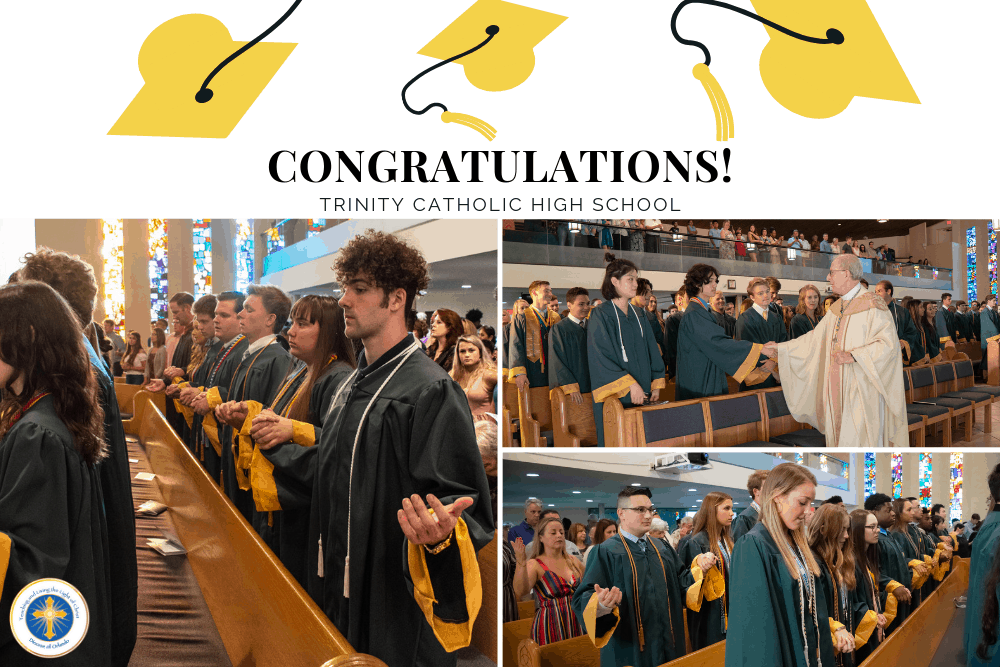 For Reilly D. at Bishop Moore Catholic High School in Orlando, it was service to others that most impacted him during his time in Catholic schools. He remembers how the school community came together following the earthquake in Haiti to raise funds and collect donations.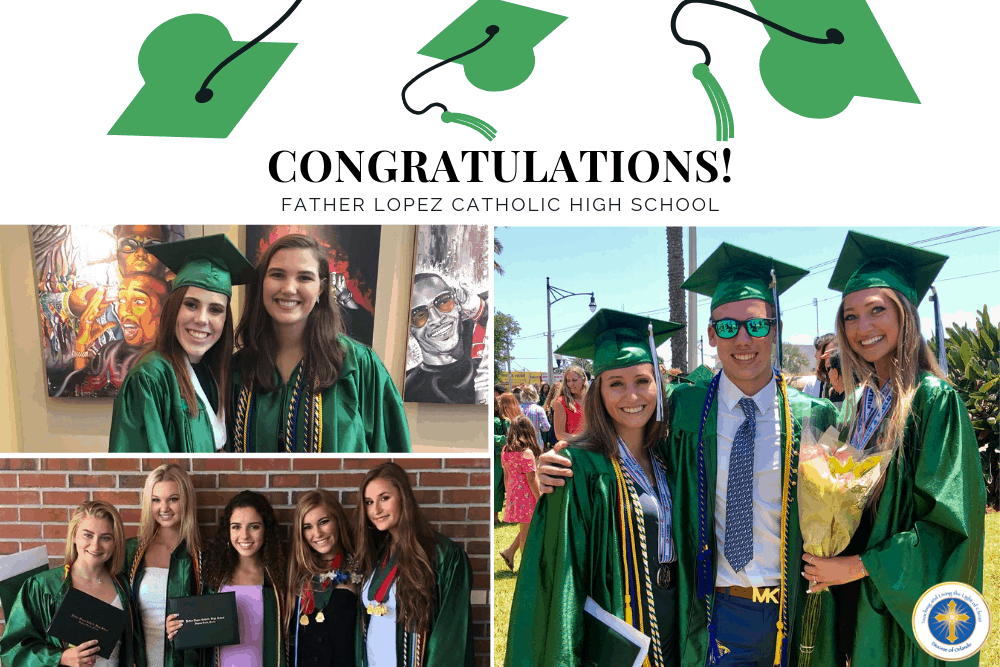 "This showed me at a young age that anyone is capable of affecting someone's life for the better regardless who they are or where they are in the world," said Reilly.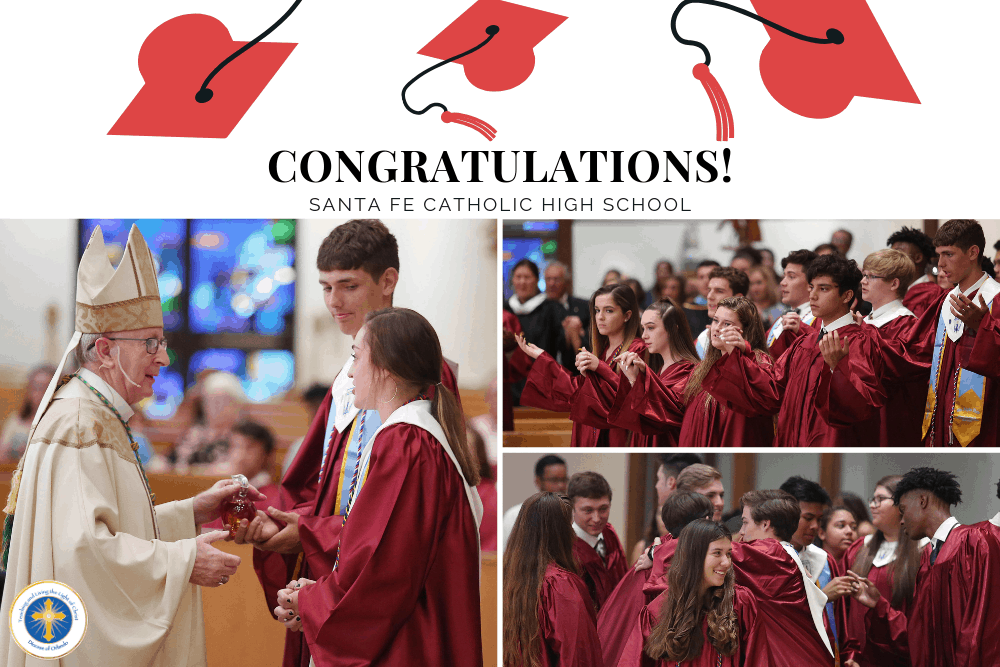 Jessica B., a fellow Bishop Moore student, says her own life transformed when she took her religious doubts and struggles in faith to a trusted teacher, who listened with patience and without judgement.
"Without his openness to my relentless questioning and his willingness to respond with love, I would not possess the firm foundation my faith stands on today," said Jessica.
Wes P. from Trinity Catholic High School in Ocala said he did not consider himself a religious person when he began high school, but in an atmosphere that encouraged his curiosity about the faith and nurtured a love of our Lord, he says he is graduating with "a deeper connection with God than I could have ever imagined."
Bishop Noonan explained to the students how a relationship with Jesus will help them prepare for the challenges and deep questions they will encounter in life. He told them with Jesus, they will do great things. Equipped and empowered by their Catholic education, these students are ready to take on the world.
"Even though our high school journey is coming to a close, and this may well be the last time we're all here together, it is by no means the end of our story," said Marie C. from Trinity Catholic.
"We're stepping out into a world that is deeply divided," acknowledged Bobby H. from Melbourne Central Catholic. "MCC has prepared us and we know what we have to do. We have to go out there and love at all cost. We have to be inclusive and accept those who are different. We have to see God's face in others… We have to build His Kingdom and leave a better world for those who will come after us. That's how we pay it forward and give this great gift of Catholic education to the next generation… If we trust in God and work hard, anything is possible."
By Elizabeth Wilson, Florida Catholic Correspondent – May 30, 2019