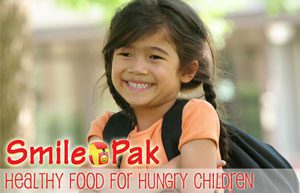 For over 1,100 students in the SmilePak weekend meal program, Christmas is coming early this year. This Friday Agape Food Bank will give the students a Holiday meal pack, filled with the fixings for a traditional Christmas dinner: ham, cranberry sauce, yams, green beans, corn, stuffing, instant mashed potatoes, and apple pie.
Over the long Christmas break, children who rely on school breakfasts and lunches, often go hungry.
Through a gift from Community Foundation of Greater Lakeland, Agape Food Bank is able to provide the holiday meal packs and also fill the weekend backpacks with extra cereal, macaroni and cheese, juice, and peanut butter to provide hunger relief until the students return to school in 2014.
Throughout the school year, Agape Food Bank provides students in great need a SmilePak each Friday afternoon filled with nutritious food to bridge the hunger gap that exists over the weekend when free school lunches are not available. Agape Food Bank is a program of Catholic Charities of Central Florida.